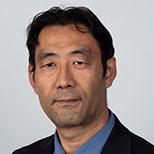 Dr Perry Xiao
Associate Professor; Course Director, MRes in Electrical and Electronic Engineering
Engineering / Electrical and Electronic Engineering
Dr Perry Xiao is an Associate Professor and Course Director in the School of Engineering at LSBU. He is also a fellow of The Institution of Engineering and Technology (FIET) and a senior fellow of Higher Education Academy (SFHEA).
His main research interest is to develop novel infrared and electronic sensing technologies for skin measurements and industrial Non-Destructive Testing. With funding from EPSRC (GR/M56722/01), Royal Society, and various industries, work has been done on skin hydration and hydration depth profiling, skin thickness, skin pigments, transdermal drug delivery, membrane permeation, nail and hair measurements, instrument performances and thermal diffusivity effects, by using photo-thermal radiometry technology. He also works on skin Trans-Epidermal Water Loss (TEWL) measurements and capacitive imaging based on Fingerprint sensors.
He co-founded Biox Systems Ltd, a university spin-out company, which designs and manufactures a patented, novel, condenser-chamber TEWL measurement technique - AquaFlux©, and capacitive image instrument - Epsilon. AquaFlux has been sold to over 60 organizations worldwide, including universities, hospitals and leading international cosmetic companies such as Unilever, P&G, and L'Oreal.
Apart from research, Dr Perry Xiao also teaches at both UG and PG levels, he has set up two new courses of which he is the course director: MSc in Embedded and Distributed Systems, and Master of Research in Electrical & Electronic Engineering.
To date, Dr Perry Xiao is currently supervising six PhD students, successfully finished seven PhD students, obtained two UK patents, and published over 100 refereed papers in journals and conference proceedings.
Photo-thermal radiometry for non-destructive testing
Trans-epidermal water loss (TEWL) measurements
Capacitive imaging using Fingerprint sensors
Mathematical modelling and data analysis
Software programming and Advanced algorithms
Google Android and Apple iPhone projects
Charted Engineer (CEng) of the IET
Charted Physicist (CPhys) of the Institute of Physics (IoP)
Fellow of The Institution of Engineering and Technology (FIET)
Senior Fellow of the Higher Education Academy (SFHEA)