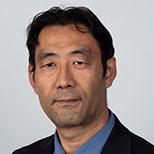 Prof. Perry Xiao
Head of BioEngineering Research Centre
Engineering / Electrical and Electronic Engineering
Prof. Perry Xiao is Head of BioEngineering Research Centre in the School of Engineering at LSBU. He is also a fellow of The Institution of Engineering and Technology (FIET) and a senior fellow of Higher Education Academy (SFHEA).
His main research interest is to develop novel infrared and electronic sensing technologies for skin measurements and industrial Non-Destructive Testing. With funding from EPSRC (GR/M56722/01), Royal Society, and various industries, work has been done on skin hydration and hydration depth profiling, skin thickness, skin pigments, transdermal drug delivery, membrane permeation, nail and hair measurements, instrument performances and thermal diffusivity effects, by using photo-thermal radiometry technology. He also works on skin Trans-Epidermal Water Loss (TEWL) measurements and capacitive imaging based on Fingerprint sensors.
He is also a Director and Co-founder of Biox Systems Ltd, a university spin-out company, which designs and manufactures a patented, novel, condenser-chamber TEWL measurement technique - AquaFlux©, and capacitive image instrument - Epsilon. AquaFlux and Epsilon have been used in over 200 organizations worldwide, including universities, hospitals and leading international cosmetic companies such as Unilever, P&G, and L'Oreal, Johnson & Johnson, GSK, Boots, Colgate-Palmolive and Pfizer, etc..
Apart from research, Prof. Perry Xiao also teaches at both UG and PG levels, he has set up three new courses in the past and now is the course director of Master of Research in General Engineering.
To date, Prof. Perry Xiao is currently supervising six PhD students, successfully finished nine PhD students, obtained two UK patents, and published over 100 refereed papers in journals and conference proceedings.
Currently Teaching:
HND/C Prooject
Engineering Computing
Computer Systems and Networks
Team Design Project
Taught in the past:
Microprocessor-Based Control and Robotics
Network Technologies and Design
Advanced Instrumentation and Control
Scada Systems
Distributed Systems and Internetworking
Introduction to Network Programming
Advanced Network Programming
Research Project – Stage 1 Planning and Review
Research Project – Stage 2 Execution and Management
Research Project – Stage 3 Final Dissertation
Internet Programming
Internet Technologies
Internet Protocols and Technologies
Internet Management and Security
Engineering Software 1
Fundamentals of the Internet
Digital Signal Processing
Signals and Systems
Introduction to Communications and Networks
Introduction to Data Communications
Applied Software for Internet Engineers
Photo-thermal radiometry Technology

Opto-Thermal Transient Emission Radiometry (OTTER) is a novel infrared remote sensing technology developed by our research group. OTTER uses a pulsed laser as the heat source to heat up the sample, and a fast infrared detection to pick up the consequent changes in sample's black body radiation. OTTER has a unique depth profiling capability, and has been used in skin hydration, skin pigments, and transdermal drug delivery studies. OTTER can also be used in non-destructive testing, surface contamination detection, forgery detection etc. Comparing with other techniques, OTTER has the advantages of non-contact, non-invasive, spectroscopic in nature, insensitive to colour and small movements, and works on arbitrary, unprepared surfaces.

AquaFlux Technology

The AquaFlux is the top-performing instrument for Trans Epidermal Water Loss (TEWL). It uses patented condenser-chamber technology to deliver measurements of unrivalled sensitivity without the need for controlled ambient conditions. Accurate calibration methods unique to Biox ensure that measurements are consistent from instrument to instrument and from time to time.

Epsilon Permittivity Imaging Technology

The Epsilon is a novel instrument for contact imaging of human skin, hair and a wide variety of other soft materials, including animal and plant tissues, waxes, fats, gels, liquids and powders. Its proprietary electronics and signal processing algorithms map the sensor's non-linear signals onto a calibrated scale for measuring properties such as hydration and insensible perspiration. Apart from snapshot capture, the software has facilities for recording bursts and videos for studying spatially resolved dynamic processes such as occlusive hydration, wetting, and the permeation of liquids through membranes.

Embedded Systems

Embedded systems based on microcontrollers (Arduino, mbed, PIC etc.), sensors (temperature and humidity, capacity etc.) and communication protocols (SPI, I2C, serial, USB, WiFi, BLE etc.).

Mathematical modelling and data analysis

Finite element analysis, finite difference analysis, least squares fitting, inverse problems.

Software programming and Advanced algorithms

System software development (VB, C#, Qt), machine learning and deep learning algorithms

Google Android and Apple iPhone projects

Mobile systems for reading sensors data and control instruments.
Charted Engineer (CEng) of the IET
Charted Physicist (CPhys) of the Institute of Physics (IoP)
Fellow of The Institution of Engineering and Technology (FIET)
Senior Fellow of the Higher Education Academy (SFHEA)
International Scientific Committee of the International Conference on Photoacoustic and Photothermal Phenomena (ICPPP).
Editorial committee of the new open-access online journal – Cosmetics
Editorial referee for more than 10 journals, such as Journal of Biomedical Optics, International Journal of Pharmaceutics, Journal of Skin Pharmacology and Physiology, Journal of Vascular Diagnostics, International Journal of Thermophysics, Recent Patents on Drug Delivery & Formulation, Journal of Medical Engineering & Physics, Journal of Engineering in Medicine, Sensors, IEEE Access and IETE Journal of Research, etc.