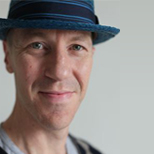 Dr Patrick Tarrant
Associate Professor
Arts and Creative Industries / Film and Media
Patrick Tarrant is both a filmmaker and a researcher with a specific interest in the non-fiction modalities, from home video to documentary and the portrait film. Patrick's latest publication 'Montage in the Portrait Film: Where Does the Hidden Time Lie' analyses Pedro Costa's feature length portrait of the filmmakers Jean Marie Straub and Danielle Huillet.
Patrick's most recent film, The Take-Up, screened in the London Film Festival 2014 in the Experimenta Programme, and features a radical misuse of a 16mm film projector playing in front of an HD Video Camera to produce some surprising audio-visual results.
Patrick's Ph.D., 'Documentary Practice in a Participatory Culture' yielded an article called "Camera Movies: Awesome, I F...in' Shot Them!", published in The Journal of Media Practice (2009), along with a 25 minute reflexive documentary called Hubbub, published online in 'Screenwork' Volume 2 (2009).
For more on Patrick's outputs and interests go to http://patricktarrant.com
Patrick has had films screened at many International Film Festivals, including:
London Film Festival, 2014
Bodies in Land Film Festival, 2014
Cinema Turbulent Film Festival, 2014
Antimatter Film Festival 2013
Oregon Independent Film Festival 2013
New Filmmakers New York, Winter 2013, Anthology Film Archives
Utopia Film Festival 2012
Antimatter Film Festival 2012
Alphaville Inaugural Conference: Cinema in the Interstices 2012
Crystal Palace: 1st ArtSpace Experimental Film and Video Festival 2012
Oregon Independent Film Festival 2012
Images Festival, Toronto 2012
Cherry Kino at 25th Leeds International Film Festival 2011
Split Film Festival, Croatia 2011
Chicago Underground Film Festival 2011
'Outer Boroughs on Film', Anthology Film Archives, 2010
Urban Research on Film 2010 (Director's Lounge, Berlin)
Queens International Film Festival 2009
Dr Tarrant teaches Film Theory, Documentary Theory and Practice, Editing and Montage.
Patrick is currently researching the work of London filmmaker Ben Rivers with an eye on the material artefacts produced in Rivers' artisanal practice.