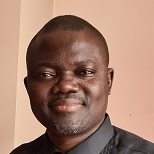 Dr Olubisi Ige
Senior Lecturer
Built Environment and Architecture / Construction, Property and Surveying
Dr Olubisi Ige is a Senior Lecturer in Construction Project Management in the Division of Construction, Property and Surveying, School of Built Environment and Architecture. He specialises in advanced construction materials with an interest in steel fibre reinforced concrete and the application of image analysis tools to analyse the fibre orientation and distribution within the composite material.
Dr Ige is currently researching on adobe bricks enhanced with agricultural wastes fibres for sustainable construction and housing in developing countries.
He joined London South Bank University in early 2020. Before joining LSBU, Olubisi's experience in construction industry, teaching, learning and researching in the higher education sector spanned well over 20 years, both internationally and in the UK. He completed both BEng and MSc degrees in Civil Engineering in Nigeria, before coming to UK for his PhD degree (Civil Engineering) at the University of Portsmouth. He teaches Construction Technology and Materials, Construction Management Project and Management of Organisation.
Olubisi teaches Construction Management Project, Management of Organisation and Construction Technology and Materials at undergraduate and postgraduate levels.
Associate Fellow, The Higher Education Academy
Chartered Institute of Building
Institution of Civil Engineers
Nigerian Society of Engineers