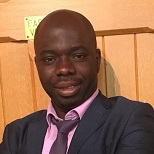 Dr Olalekan Aladesanmi
Lecturer in Economics
Business / Accounting, Finance and Economics
Dr Olalekan Aladesanmi is a Lecturer in Economics. His teaching specialisms are in Business Economics, Macroeconomics, Development Economics and Econometrics. He teaches modules at undergraduate level and supervises PhD students in his specialist areas of economic policy uncertainty, portfolio diversification and financial market integration.
His main research interests are in the areas of financial market integration, macroeconomy, and sustainable development. His work in these areas has been published in a range of refereed academic journals.
Dr Aladesanmi is currently module coordinator for the following modules in the BSc Economics course:
Business Economics (Year 1, Semester 1 & 2)
Introduction to Econometrics (Year 2, Semester 2)
Applied Econometrics (Year 3, Semester 1)
Introduction to Advanced Macroeconomics (Year 3, Semester 1)
Dr Aladesanmi has 7 years experience in conducting research in the field of international financial markets and macroeconomy. His key concern is to make a positive contribution to financial market and macroeconomic stability.
Published:
Aladesanmi, O. Modelling Spillover Effects between the UK and the US Stock Markets over the period 1935 – 2020. Investment Analysts Journal, May 2020. https://doi.org/10.1080/10293523.2020.1773143
Aladesanmi, O., Casalin, F., and Metcalf, H. Stock Market Integration between the UK and US: Evidence from 8-Decade-Long Data. Global Finance Journal, December 2018, pp. 32 – 43. https://doi.org/10.1016/j.gfj.2018.11.005
Aladesanmi, O. The Necessity for Political, Economic, Social and Environmental Goals for the Adoption of the Post-2015 Development Agenda. Journal of Asian Development Studies, September 2015, vol. 4, pp. 27 – 47.