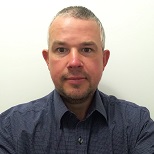 Dr Nathan Darroch
Lecturer in Civil Engineering
Engineering / Civil and Building Services Engineering
Dr Nathan Darroch has 35 years of academic and professional experience in transport, especially railway-based systems. This includes the operation and multi-disciplinary management of transport infrastructure and its interfaces with its environment.
He is also the current Industrial Chair of the Industrial Advisory Panel for the School of Civil Engineering and the Built Environment.
Dr Darroch is proud to be affiliated with LSBU, due to its long heritage of enabling people to achieve their educational and career goals.
Dr Darroch is passionate about transport, especially railway-based systems.
Dr Darroch continues to undertake academic and professional study and development to further his knowledge of transport systems, especially railway-based systems, their history and socio-economic effects on local, national, and international environment.
These experiences and his academic and professional journey make him even more enthusiastic to participate in teaching at LSBU.
Dr Darroch is a Member of the Institute of asset Management (MIAM).
For over 19 years, he worked within operations and infrastructure asset management for Transport for London.
Dr Darroch is an Honorary Research Fellow at the University of Aberdeen. His research includes undertaking a project to develop combined processes of multi-disciplinary analysis, data generation, publication and continuing data management to affect sustainable management of the interfaces between transport and urban infrastructure and their environment.