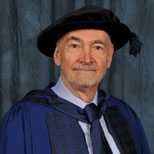 Dr Michael Wilson OBE
Honorary Doctor of Letters
As one of the film world's most successful businessmen and producers, Michael Gregg Wilson was born in New York. After his parents, both actors, divorced, his mother met and married the film producer Albert 'Cubby' Broccoli. Michael studied engineering in California, and then law at Stanford. After graduating, he worked as a lawyer, first in Washington and New York and then in London.
By the early 1960s, Cubby Broccoli had gone into partnership with Harry Saltzman, who owned the rights to Ian Fleming's James Bond novels, and formed Eon Productions. The first Bond film, Dr No, appeared in 1962. But although Michael was always involved in his stepfather's business – as a student, he worked on Eon's second Bond production, Goldfinger – he was initially determined to stick with his chosen career. 'I knew how insubstantial the film business could be,' he has said.
But the lure of Hollywood was to prove impossible to resist and in the mid-1970s, Michael joined Eon Productions. At first he worked in the legal department, then in 1977 he helped Cubby Broccoli produce The Spy Who Loved Me. Michael was executive producer on Moonraker in 1979, and has produced every Bond film since, working alongside his half-sister Barbara Broccoli since 1995's Goldeneye.
As well as producing, Michael has also co-written five Bond films, and even appeared in several, including Goldfinger, Die Another Day and Casino Royale. Barbara Broccoli has described him as having the 'brain of a scientist and the heart of an artist'. He has also needed considerable business acumen to steer the company through challenging times and emerge in the 21st century with the Bond franchise not only intact, but rebooted, revitalized and as dynamic and relevant as ever. In 2008, both he and Barbara were awarded the OBE. Eon Productions remains very much a family business, with two of Michael's sons and his niece now working there.
But all-consuming though it undoubtedly is, Bond is not Michael's only passion. Again in partnership with Barbara, he has developed a number of theatre projects, including most recently Chariots of Fire, which ran in London's West End during the 2012 Olympics. He is also a long time collector – of antique books and manuscripts and, since the 1970s, of photographs.
Today, Michael's photography collection spans the entire history of the art form, and ranks among the finest in the world. In 1998, with his wife Jane, he opened a study centre in London which works to disseminate knowledge about photography through seminars, publications and loans to museums and galleries around the world. He and Jane run a mentoring scheme at Scripps College in California, and supported the Science Museum's new Media Space, which opened in September.
Recently, he has also been working closely with the Tate, which made a commitment to collect and show more photographs 10 years ago. Michael has donated a number of works to the gallery, including photographs by Bruce Davidson, Manuel Alvarez Bravo and William Eggleston. 'I've battered the Tate for years to do something about photography,' he says. 'They did, so I thought I'd better support it.'
Michael and Jane are members of the Tate's Photography Acquisitions Committee, and Michael also sits on the gallery's International Council. He is a trustee of the Art Fund, which helps to acquire artworks for the nation, chair of the Science Museum Foundation and a trustee of the Carnegie Institution for Science.