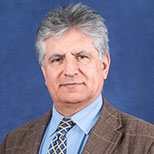 Dr Maz Shirkoohi
Director of Magnetics
Maz Shirkoohi joined the School of Electrical Electronic and Information Engineering in the newly formed South Bank University in September 1992. Maz was awarded MSc in Electromagnetic Engineering at Cardiff University (1985) and PhD in Electrical and Electronic Engineering (1990). Whilst studying for his PhD at Cardiff he was first appointed as a Research Assistant (1996-87) and then as a lecturer (1987-92), and was awarded two EPSRC grants on Computer Modelling of magnetic materials during this period. He has also been involved in course validation and quality standards and assessments within the university since his appointment. He became the Head of Division of Electrical and Electronic Engineering from 2001 until 2004.
Maz was awarded a TEMPUS grant by the EU in 1996 for developing a course in High Performance Computing at Lublin Technical University in Poland. He developed a new technique for measurement of cross-sectional area of steel plates using saturation magnetisation. He was awarded funds to develop methods for detecting insulation flaws in aircraft wiring. Maz is currently continuing this research to develop systems for detecting small defects in electrical wiring for aircrafts and large structures such as, power plants, large buildings, ships, etc. He is currently the Academic Lead on a government funded KTP programme with Open Date Equipment Ltd., in South London.
Maz's main area of teaching is in Electrical and Power Engineering. Over the years at LSBU, Maz has designed, coordinated and delivered several units and modules (some of these are listed below). He has also participated in course development and validation on many occasions.
Units and modules he has taught, and currently teaches, to date:
Modelling of Electronic and Magnetic Materials (MSc)
Energy Conversion and Devices (MSc)
Magnetic Materials (MSc)
Magnetic Measurements (MSc)
Advanced Power Electronics and renewable Energy (MSc)
Technical Research and Professional Skills (MSc and MEng)
Research Methods and Professional Development (MSc – Short Course)
Power Systems Engineering (Final year MEng)
Electromagnetic Theory (Final year, BEng)
Electrical Systems & Applications (Final year, BEng)
Power Electronics Applications (Final year, BEng)
Power System and Energy Converters and Drives (Final year, BEng)
Environmental Space Engineering (2nd year BEng)
Power Systems (2nd year, BEng)
Power Systems (1st year, BEng)
Engineering Science (1st year BEng)
Computer Structure (1st year BEng)
Fundamentals of Electrical Engineering (1st year, UG service course for Civil and Arch., Mechanical, Environmental and Integrated Engineers)
Power Electronics (2nd year BTech)
Analogue Electronics (2nd year BTech)
Electrical Principles 2 (2nd year BTech)
Computer Engineering (2nd year BTech)
Electrical Building Services (2nd year BTech)
Power Electronics (2nd year BTech)
Electrical Technology (2nd year BTech)
Electrical Principles (1st year BTech)
Maz's main area of expertise is in the Electrical and Electronic Engineering. He also has specific expertise in Electromagnetic Materials, Power Engineering, Power Systems and Power Electronics. Some of his main research activities are concentrated in the following areas:
Characterisation of electrical and magnetic materials
Electromagnetic devices
Power transformers and rotating machines
Computer modelling of electric and magnetic materials and devices
Magnetic measurements
Development of novel electronic test and measurement systems
Power systems and power electronics
CEng and corporate member of Institution of Engineering and Technology (MIET)
CPhys and corporate member of Institute of Physics (MInstP)
Member of Institute of Electrical and Electronic Engineers (MIEEE)
Senior Fellow of Higher Education Academy (SFHEA)
Maz has acted as a reviewer for assessment of final reports, and for proposals for the EPSRC Engineering Programme. He was a reviewer for the European Physical Society (EPS) Conference series on Soft Magnetic Materials (SMM), from 1987, for publications in several international journals, such as IEEE Transactions on Magnetics, the Journal of Magnetism and Magnetic Materials, Physica Scripta, and Anales de Fisica. He has been a reviewer for conference proceedings for the International Symposium on Non-Linear Electromagnetic Systems, and is also a reviewer for the Journal of Thermal Science, Journal of Applied Sciences (Open Access), MDPI Energies Editorial (Open Access), and Rubriq Peer Review (Open Access).
Maz is an external Examiner for MSc courses in Embedded Systems and Electronic Engineering courses at the Bedfordshire University. He is also a member of the Engineering Professors Council.