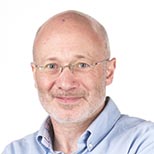 Dr Martin Bush
Associate Professor
Engineering / Computer Science and Informatics
Martin Bush joined South Bank Polytechnic (as it then was) in 1986 as a Senior Lecturer in Electrical and Electronic Engineering. Prior to this he had spent four years working in research and development within industry, in the area of computer-aided design for integrated circuits.
Martin had a three-year secondment from teaching between 1989 and 1992, when he was team leader at South Bank for an EU-funded collaborative project in the area of software metrics. This subsequently led to his PhD by publication in that subject area, awarded by London South Bank University in 1994. He was appointed Head of Division for Software Development & Engineering in 1997, a post he held until 2001, and subsequently Web Manager for the Faculty of Business.
In 2010 Martin dropped down from full-time to part-time at South Bank in order to establish a start-up software development company; the company's main product is the online multiple-choice test platform QuizSlides.com. Here is the TEDx talk Martin gave at LSBU in 2014 in which he explains his motivation for creating the QuizSlides platform. Here is the presentation he gave about this and other topics at the 2012 Oxford Drupal Camp - a conference on the use of Drupal within Education - University of Oxford, June 2012.
Other career highlights have included visiting computer science and electronics departments within 13 different Japanese universities during a 6-month sabbatical in Japan in 2001, and also working as an academic consultant for Celoxica in Yokohama during that period. From 2002 to 2004 Martin was engaged as a Business Fellow working for the London Technology Network. Since 2010 he has acted as an Independent Subject Expert for Coventry University on three occasions - once for a franchisee approval event in Kuala Lumpur, Malaysia, and twice for MSc course approval events in Muscat, Oman.
Martin has a BSc in Electronic and Electrical Engineering from London University King's College (1st class Hons) and a PhD from London South Bank University.
Martin has taught a very wide range of subjects in the general area of computing at all levels from HNC to MSc, and he has been involved in supervising or examining a total of 14 PhD students to date. He currently leads taught modules at both undergraduate and postgraduate level in the areas of computer systems architecture, operating systems, and internet technologies.
Martin has authored over 25 refereed research publications to date, most recently in the area of educational assessment. He has been an invited speaker on many occasions both within the UK and overseas (including India, Japan, Ireland and the Netherlands), a reviewer of papers for various journals and conferences, and a conference organising committee member.
Most recent publication: Bush, M. (2015) Reducing the need for guesswork in multiple-choice tests. Assessment & Evaluation in Higher Education, 40(2), 218-231
For details about all of Martin's publications, see his Google scholar page.
Martin is a member of both the Institute of Engineering and Technology (IET) and the Chartered Institute for IT (BCS), a Chartered Engineer (CEng), and a Chartered Information Technology Professional (CITP). He is also a Senior Fellow of the Higher Education Academy (SFHEA).
Martin is the founder/director of QuizSlides Ltd., which was formed in 2011. The company's main product is the online multiple-choice test platform QuizSlides.com.