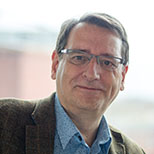 Dr Martin Benwell
Associate Professor
Health and Social Care / Allied Health Sciences
Dr Martin Benwell is an Associate Professor in the Division of Allied Health Sciences. His research interests are in Job Satisfaction in Radiographers and the Role of Reporting Radiographers. He gained his PhD in Medical Sociology at City University London in 1999.
He has been working at LSBU since January 2005. He has supervised two PhDs and one Professional Doctorate to successful completion, and is currently supervising a number of PhD and Professional Doctorate students.
A qualified radiographer since 1977, he has spent more than 30 years in radiography education.
He is a partner with the Health and Care Professions Council, and has attended radiography validations at many HEIs in the UK.
Dr Benwell's main topic of teaching is research methods. This is taught at level 5, level 6, level 7 and level 8. He has particular focus on Pathology for Radiographers.
Dr Benwell is currently researching the role of reporting radiographers in the UK. His recent publications have been in the field of protection of the eyes of professional pilots from UV light.
Society and College of Radiographers (Member)
Health and Care Professions Council (Member and Partner)
Externally, Dr Benwell takes part in the examining of radiography PhDs and Professional Doctorates. He holds a partner role with the Health and Care Professions Council.