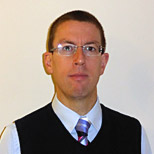 Dr Mark Ellis
Senior Lecturer in Mechanical Engineering
Engineering / Mechanical Engineering and Design
Mark studied BEng Mechanical Engineering at Southampton University, before completing his PhD in Internal Combustion Engines at Brunel University in 1999.
He joined Cosworth Racing in Northampton, and progressed to Senior Engineer during a seven year period, undertaking a variety of roles in the Development, Test, and Track-Support of Formula 1 engines. After a period as Senior Lecturer in Automotive and Motorsport Engineering at Swansea Metropolitan University, in 2009 Mark joined Advanced Engine Research (AER) Ltd in Essex. He progressed to Chief Engineer managing a small team of Engineers, responsible for the Design, Development and Testing of primarily Turbo-charged engines for Motorsport, in particular the Le Mans Prototype series. Mark re-joined AER Ltd in 2017 as Technical Director, and progressed to Managing Director with responsibility for the company's overall performance and operation whilst continuing to oversee AER's technical departments.
He lectures across a range of courses, specialising in Thermofluids. Mark has been course director for the BEng Mechanical Engineering, MSc Mechanical Engineering course, and led the development of the BEng Advanced Vehicle Engineering programme. Research interests include IC engines and power systems.
Mark is a Chartered Engineer, and Fellow of the Institution of Mechanical Engineers.
Mark teaches Thermofluids and Mechanical Engineering across a range of Mechanical Engineering and Design courses.
Mark's 'Research Interests and activities include:
Internal Combustion engine performance development (simulation, systems modelling), design (component design & clean-sheet engine design), calibration and dynamometer testing (steady-state & transient).
Alternative fuels and future mobility, novel combustion systems (simulation, design, and testing).
Use of advanced measurement techniques and instrumentation for vehicle powertrain (in-cylinder sampling/pressure measurement & analysis, exhaust emissions measurement), data acquisition systems (test-bed and on-vehicle).
CEng, Fellow of Institution of Mechanical Engineers (IMechE). Fellow of Higher Education Academy (HEA).