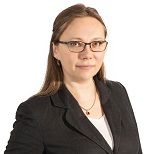 Dr Maria Postoyeva
Lecturer
Dr Maria Postoyeva is a Lecturer in the Department of Accounting, Finance and Economics, LBSU Business School. She specialises in knowledge-based economy, sustainable development, and corporate governance. She also has interests in culture, ethics and strategic management and the application of long term sustainable values on corporate level.
Maria spent nearly twenty years working in various economic sectors for both medium and large sized organisations. After completing her PhD in Economics at Moscow State University in 2011 she worked with University of Derby for two years before joining LSBU in 2016, where she currently teaches across several disciplines.
Maria is a qualified accountant and she continues her professional practice alongside her academic activities. This enables her to undertake interdisciplinary research and to keep up to date with the current affairs of the business world and to enhance her knowledge.
Recently Maria became more active in her research activities and she is currently working on a number of research related projects both on her own and in collaboration with other researchers.
Maria teaches Accounting, Finance and Economics modules across various levels. Her primary areas of teaching are Accounting and Finance, but she is also involved in Economics teaching at the School of Business.
Maria has several publications relating to the topic of her PhD dissertation. She also presented some of the results at several conferences.
After taking a break to have a family, she is now getting actively involved in research-based activities and is a member of various research groups at LSBU research centre.
Recently Maria presented a poster of her current research project titled "Employability in the Knowledge-Based Economy" at the international scientific conference entitled: Global Economy and Governance - Challenges in a Turbulent Era (GEG 2017) in Warsaw, Poland.
She is currently working on a number of research projects relating to her research interest areas.
Maria is a fellow member of AAT and a member of ACCA.
Maria is involved in providing professional advice in the areas of tax and accounting as well as general business advice to local organisations.