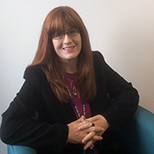 Dr Louise Terry
Reader in Law and Ethics
Health and Social Care / Adult Nursing and Midwifery
Dr Louise Terry qualified as a registered biomedical scientist (medical microbiology), and worked both for the NHS and the private sector for the world leader in bacterial identification. She then had a career change and studied for a law degree at the University of Bristol. There she obtained her doctorate with her thesis entitled: 'Saying No: The Withholding and Withdrawing of Medical Treatment from non-PVS patients'.
Using socio-legal research techniques and interviews with nearly 90 consultant grade medical doctors, her doctoral research examined the micro, meso and macro levels of treatment refusals. As Dr Terry undertook vocational training on leaving school and only embraced academia later in life, she is passionate about helping others develop their academic, research and scholarship abilities.
Dr Terry enjoys using the arts and humanities to support her teaching as well has having been an early adopter of e-learning. In 1999, she started a twelve year online teaching collaboration with the University of Washington, Bothell, connecting post-registration nurses studying ethics and law in professional practice at LSBU with their counterparts in Seattle. She has been nominated twice by London South Bank University for a National Teaching Fellowship.
Graduate Courses Taught (2000 - present)
TAR_7_005 Research Dissertation (Masters in Practice Education) (from September 2010)
WHN_7_004 Innovations in assessing and treating physiological conditions (from 2009)
PHM_M_104 Law and Ethics in Health Services (Masters in Public Administration, Faculty of Business) (2005 - present)
TBE_7_030 Law and Ethics in Health and Social Care (Masters in Practice Education) (2008 to present)
WHN_7_003 Ethics consultation and best interests decision making (developed 2009)
TAR_7_010 Research Methodology and Strategy teaching team member (2010 - present).
Undergraduate Courses Taught (1998 - present)
HAP_5_003 Research methods and use of evidence
WHN_6_136 Ethics and Law in Professional Practice (1998 to present).
Critical Reasoning in Clinical Practice (from January 2011).
TLC_6_032 Ethics and Law for the Mental Health Practitioner (2006 - present).
Ethics and law specialist lecturer to post-registration BSc Professional Nursing Practice (pathways include Intensive Care, Theatres, Critical Care, Emergency Care) and pre-registration community
public health, social work, mental health nursing, midwifery, children's nursing courses.
Research Methods course teaching team member: ethics and research governance (2004 - present).
Skills Development Courses and Seminars
Preparation for Masters level study (from January 2012)
SD_2195 Evaluation for level 6 (degree) study (2006 to present)
Accountability, law and the healthcare professional study days (2000 to present)
Law and ethics seminars commissioned NHS Trusts.
Louise's research includes medical law and ethics, ethics education, teaching, learning and assessment, and the development of nursing wisdom and professional judgement. She has presented the findings of the Nursing Wisdom research project nationally and internationally. This project explored the development of nursing wisdom, proposing a new domain of nursing knowledge (organisational knowing) and mapping the transition from new nurse to good/expert nurse to wise nurse. She is currently leading an international research team in exploring how experienced health and social care educators have had their understanding of what it is to be caring and compassionate shaped by books, articles, poetry, theatre and film.
Last Five Years
2014 - present: Essential Narratives of Care and Compassion: an international discourse analysis research project. Principal Investigator: Dr Louise Terry, Co-researchers: Dr Roger Newham (Bucks New University); Dr Yolanda Babenko-Mould, Dr Marilyn Evans and Karen Ferguson (University of Western Ontario, Canada); Graham Carr, Dr SH Cedar and Karen Sanders (London South Bank University); Siobhan Atherley (Canterbury Christ Church University); Sinead Hahessy (National University of Ireland).
2010 - 2013: An exploration of nursing wisdom and ways in which this can be translated into clinical practice and fostered in junior nurses. Co-researcher with Graham Carr and Professor Joan Curzio (Principal Investigator).
Grant: £50,000: General Nursing Council for England & Wales Trust
Grant: £25,000 (50% matched funding): UK Government
2011: The ESOL overseas-trained nurse in a post-registration classroom. Co-researchers: Graham Carr and Linda Williams
Grant: £4,500: London South Bank University
2006-7: First year nursing students' experiences of death in clinical practice. Principal investigator. Co-researcher: Jo Carroll.
Grant: £5,000: London South Bank University
2006-7: A study to explore experienced nurses' early experiences of death in the clinical setting and their attitudes towards ethical issue associated with end of life care. Principal investigator. Co-researcher: Professor Carol Leppa, University of Washington, Bothell, USA.
Grant: £5,000: London South Bank University.
PhD Supervision
Jane Lynch: The purpose, problems and perspectives of health records (Director of Studies, 2012 commencement, in progress).
Yvonne Halpin: Stress, burnout and coping strategies before and after an intervention in adult nurses (Co-supervisor, 2007 commencement, on schedule to complete 2014)
Claire Bates: Partner selection for adults with learning disabilities and how this contributes to the relationships they experience (Co-supervisor, 2009 commencement, on schedule to complete in 2014)
Sharon Black: Mentor experiences of failing a pre-registration nursing student in their final placement (Co-supervisor, PhD awarded 2011).
Masters Dissertations: supervised over 30 successful dissertations.
Fellow of the Institute of Biomedical Sciences
Member of the Society of Legal Scholars
Member of the Association of Law Teachers
Member of the UK Clinical Ethics Network
St Christopher's Hospice, Sydenham (founded by Dame Cicely Saunders) - Clinical Ethics Committee Member (2011 - present)
Member Lord Chancellor's Advisory Committee North Kent Main Committee (Professional Conduct Panel) (2008 - 2011)
Member Lord Chancellor's Advisory Committee North Kent Sub-Committee (interviewing, selecting and recommending suitable candidates to the Main Committee for appointment as magistrates) (2003 - 2011)