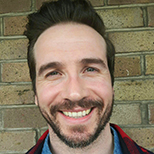 Dr Leon Betsworth
Lecturer in English Literature
Arts and Creative Industries / Arts and Performance
Dr Leon Betsworth is a Lecturer in English Literature in the Division of Arts and Performance within the School of Arts and Creative Industries. He specialises in Literary Modernism with interests in Modernist art, European Café culture and society, Space, Place, and literature of the city.
Before taking up a permanent position at London South Bank University (LSBU) he was awarded his PhD from the University of East Anglia. After this he completed a post-doctoral project on the modernist artist David Bomberg, who taught art at LSBU when it was known as the Borough Polytechnic.
Leon has teaching interests in all aspects of nineteenth- and early-twentieth-century writing.
He is module leader for the first-year 'Narrative & Culture' module, which covers a range of texts from the nineteenth to the late twentieth century; the second-year 'Critical Approaches to Literature' module, which introduces different approaches to reading a text; the third-year critical/creative module 'Contemporary Genre Fiction'; the third-year 'Literature into Film' module, which takes a look at filmic adaptations of literary novels; and the third-year 'Modernism and the City' module, which is informed by his research activities.
Leon's completed research to date has focused on literary and artistic urban modernism, particularly the importance of the café in literary life and production. And he is currently working on a book, 'The Café in the Modernist Literary Imagination'.

As leader of the S.P.A.C.E. (Space, Place, Art, Culture, Environment) Research Group, he organised a one-day interdisciplinary conference, 'The City as Modernist Ephemera' at LSBU in June 2017, which hosted international scholars from fine arts, art history, curation, sonic media, as well as literature and creative practice.
He has presented his research at a range of conferences including The Hemingway Society's International conference in Oak Park, Illinois in 2016, and more recently at the Wyndham Lewis Society Conference, 'Benign Fiesta', in September 2017.
His next research project looks at the sanatorium in modernism, which brings together a range of disciplines including medical humanities, architecture, and health in place.
British Association for Modernist Studies
Wyndham Lewis Society
The Hemingway Society