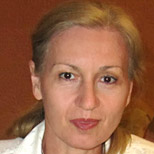 Prof. Katya Mileva
Professor in Human Neurophysiology; Director of the Sport and Exercise Science Research Centre
Applied Sciences / Human Sciences
Katya completed her PhD in Biomedical Engineering at the Electrotechnical University 'LETI' in St Petersburg, Russia in 1989. The following 10 years she spent at the Institute of Biophysics of the Bulgarian Academy of Sciences working in collaboration with medics, physicists, molecular biologists and engineers on projects investigating the intrinsic and extrinsic factors influencing the generation and propagation of intra- and extracellular action potentials and the contractility of isolated skeletal muscle fibres and single motor units.
Since 2001 when she joined the Sport Sciences team at London South Bank University, she is mainly involved in interdisciplinary research studies focused on the integrative behaviour of the human neuromuscular system: sensorimotor integration and plasticity, peripheral and central mechanisms and factors influencing fatigue development, neuromuscular, cardiovascular, metabolic and biomechanical coupling during human movement. In her research Katya adopts interdisciplinary experimental approaches, supported by computational analyses and mathematical simulations to facilitate understanding of how specific changes in the nervous and cardiovascular system contribute to suboptimal human function and motion.
Her main expertise is in the biological effects of physical modalities such as magnetic and electric fields, ultrasound and vibration, and their application ­­to optimise athletic performance and improve quality of life of individuals suffering from functional impairments related to reduced physical activity, ageing, obesity and metabolic disorders. In recent years her collaborative multidisciplinary research has attracted in excess of £700k in research and enterprise funding and resulted in publication of over 50 full research papers in peer-reviewed scientific journals and book series. Katya is the named researcher on 3 recent patents.
Katya currently leads the research activities of the Sport and Exercise Science Research Centre (SESRC). Since January 2012 she has been appointed as the Chair of ESBE Faculty Ethics Committee and Faculty Representative at the University Research Ethics Committee.
Katya's main teaching topics are:
Skeletal muscle structure, function, fatigability and plasticity
Neurophysiology of human movement
Electromyography
Impact of physical activity, ageing and metabolic disorders on human health and performance
Research methods - acquisition, processing and analysis of electrophysiological signals
She also contributes to the delivery of the following key modules in LSBU's Sport and Exercise Science programmes:
Exercise Physiology and Metabolism – UG
Physical Activity and Health – UG
Skill Development – UG
Her recent research examines:
the role of corticospinal neural drive and peripheral excitatory and contractile processes in the development of deficits and the recovery of motor function during prolonged voluntary and evoked muscle contractions
the development of novel analytical approaches to enhance sensitivity and stability of surface EMG recordings in order to facilitate their application for reliable evaluation of muscle activation, co-ordination and fatigability during athletic training, performance and everyday physical activity
the neurophysiological and biomechanical factors underlying the adaptations in postural control and movement strategies during gait with a specific focus on the foot and ankle complex
neuromuscular and peripheral vascular responses to voluntary and evoked physical activity
Recent funding:
2013-2016 - £30,000- McLaren Applied Technologies, Matched funded PhD scholarship - Development of assistive technology for sports performance and rehabilitation using neuromuscular feedback
2013-2014 - £5,000 - BOFAS Research Grant 4593 - Can an acute session of high-frequency, low-intensity, wide-pulse electrical stimulation applied to an intrinsic foot muscle increase the excitability of the respective corticospinal pathway?
2010-2013 - £250,000 - Actegy Health Ltd - Effects of electrical stimulation on peripheral circulation and swelling, Product efficacy testing and development
2012-1013 - £15,000 King Abdulaziz University, Saudi Arabia -Relationship between physical activity and diet in an adult population at an academic work setting
2011-2013 - £28,000 - European Commission, Education and Culture DG, Lifelong Learning Programme Leonardo Da Vinci - Serious Sports
2011- €5,000 - European Hydration Institute - Effects of Dehydration on intracortical and corticospinal excitability and voluntary activation during resistance exercise
2010-2013 - £198,000 - KTP/ Altitude Centre/Lawn Tennis Association - Effects of intermittent hypoxic training on performance in high intensity intermittent sports
2009 - £24,000 - Knowledge Connect Voucher/CherryActive Ltd - Efficacy of CherryActive
2008-2010 - £60,000 - Brand handling Ltd - Development and investigation of the 'Microwobbleboard™ technology
Member of following learned and professional societies:
The Physiological Society
Bulgarian Physiological Society
Diabetes UK
International Society for Electromyography and Kinesiology (ISEK)
Visiting Research Fellow - College of Life and Environmental Sciences, Department of Sport and Health Sciences, Exeter University, UK
Invited presentations:
Chichester University, PG workshop - Electromyography, 2010
Actegy Health Ltd, Australia office - Effects of transcutaneous electrical foot stimulation on the peripheral macro- and micro-circulation, Aug 2012
Exeter University, BASES workshop - Fatigue mechanisms and measurement techniques, Sept 2013