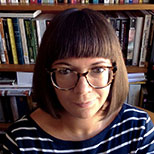 Dr Katie Donington
Lecturer in History
Law and Social Sciences / Social Sciences
Katie is a Lecturer in History in the Department of Law and Social Sciences at London South Bank University. Her research focuses on the cultural, commercial, political and familial world the slave-owners made in both Jamaica and Britain. She has recently completed a manuscript entitled The bonds of family: Slavery, commerce and culture in the British Atlantic world which will be published by Manchester University Press.
She is interested in the representation of slavery within public history and was an historical advisor for the BAFTA-award winning BBC2 documentary Britain's Forgotten Slave-owners (2015). More recently she co-curated 'Slavery, Culture and Collecting' at the Museum of London Docklands (2018-2019). She is currently a senior historical advisor for the Arts Council-funded project 'Colonial Countryside' which is researching the links between slavery and empire within National Trust properties.
Prior to joining LSBU, Katie worked as a Research Associate with the Antislavery Usable Past project at the University of Nottingham and the Legacies of British Slave-ownership project at University College London.
Katie currently teaches 'Industry, empire and society: 1750-1900', 'Black history: Concepts and debates', 'Twentieth century London: A history of the metropolis' and 'Historical practice and research'.
She has previously taught in the Department of History at University College London and the American and Canadian Studies Department at the University of Nottingham.
Katie's research analyses the role played by family in the establishment, maintenance, expansion and defense of Britain's commercial interests in the business of slavery. Her work traces the different ways in which the transatlantic planter-merchant elite profited commercially, socially, culturally and politically from their participation in the system of slavery. Moving between Britain and Jamaica her research reconstructs the networks of commerce, property, religion and family that enmeshed metropole with colony.
Katie's research focuses on the West India merchants of London. These men were key players in the political representation of slaving interests during both the struggle over the slave trade and later slavery. Much of the cultural accumulation (art, prints, books, botanical specimens), physical legacies (country houses, churches, schools, docks, hospitals) and commercial reinvestment (railways, insurance, finance capital) that Britain benefitted from as a result of its involvement with slavery was paid for by these individuals. Katie's work argues for the importance of understanding the culture of commercial families with slaving interests as a key part of understanding how their power circulated and reproduced itself within British society.
Challenging distinctions between local, national and imperial histories, her work is centrally concerned with the interweaving of colonial and metropolitan narratives of slavery. It argues that slavery is a history that binds Britain to the wider world through the complex, violent and unequal interconnections that underpinned it.
More broadly, Katie is also interested in the ways in which slavery has been represented, remembered and contested within public history.
Katie has worked in partnership with a number of public history bodies to promote the relationship between higher education and the museum sector. She partnered with Hackney Museum and Archives on the Arts Council-funded project 'Local Routes / Global Routes: Legacies of Slavery in Hackney' (2013-2015). She worked in partnership with the New Art Exchange, Nottingham on the AHRC-Connected Communities project 'Draw for the Future' (2015). She worked with the arts-based education organisation Yole!Africa on an AHRC-funded project 'Decomposing the Colonial Gaze' which ran photography workshops in Goma and Lubumbashi (2016-2018). She has extended this work with an Arts Council-funded project 'You Should Know Me: Photography and the Congolese Diaspora in London' in partnership with photographer Letitia Kamayi. She has recently co-curated 'Slavery, Culture and Collecting' with the Museum of London, Docklands (2018-2019). She is currently an historical advisor for the Arts Council-funded project 'Colonial Countryside'.
In 2016 she was awarded a British Academy Rising Star Public Engagement Award for the project 'Re-presenting slavery: Making a Public Usable Past'. She worked with museums, art galleries and school teachers to explore how the history of transatlantic slavery is represented within these areas. She is currently involved in a project working on a teacher-training scheme to improve pedagogical practice on the teaching of transatlantic slavery within secondary schools.
Katie has written for BBC History Magazine and History Today. She was an historical advisor for the BAFTA-award winning BBC2 documentary Britain's Forgotten Slave-owners (2015).
Katie is a co-convenor for a new series of seminars at the Institute of Historical Research on 'Black British History'. The seminar series will begin in 2019.
Katie has acted as a reviewer for book proposals for Palgrave Macmillan.