Dr Katherine Runswick-Cole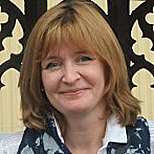 Dr Katherine Runswick-Cole
Visiting Fellow, Centre for Educational Research
Dr Katherine Runswick-Cole is a Visiting Fellow at the Centre for Educational Research. She is a Senior Research Fellow in Disability Studies and Psychology at the Research Institute for Health and Social Change at Manchester Metropolitan University.

Katherine is a highly influential and well regarded academic in the field of Critical Disability Studies. Her research interests are in Disability Studies, Disability and the Family, Disability Studies in Education, Disability Studies, Ableism and Ability Studies, and Inclusive Education.
Katherine's research and publications mostly focus on the lives of disabled children and their families from a critical disability studies perspective. She has published extensively in a range of academic, practitioner and parent/carer texts.