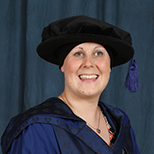 Dr Kate Granger MBE
Honorary Doctor of Science
Dr Kate Granger was a specialist registrar in geriatric medicine at Mid Yorkshire Hospitals NHS Trust who in 2011 was diagnosed with a rare and aggressive type of sarcoma. She was inspired to start the #hellomynameis campaign by the impersonal treatment she received both from doctor who first broke the news that her cancer was incurable and by other healthcare professionals she encountered along the way.
#hellomynameis began on Twitter, with a very simple aim: to encourage healthcare staff to introduce themselves to patients, establishing a personal connection as the first step towards providing more compassionate care. The campaign clearly hit a nerve: Kate gained more than 35,000 followers, and the campaign has been endorsed by more than 400,000 doctors, nurses, therapists, receptions and porters.
Kate's own trust was the first to sign up, and has since been followed by 100 more. The campaign has received national media coverage and Kate herself travelled the country speaking about the importance of compassionate care. She was invited to 10 Downing Street and to the Scottish Parliament, which recently announced plans to fund the rollout of the campaign across trusts in Scotland.
Given her energy, determination and commitment, it is easy to forget that Kate achieved all this while managing her illness. But the campaign is only a part of what she did after her diagnosis. She also worked to raise money for the Yorkshire Cancer Centre, a small charity working to improve quality of life for people with cancer. So successful were her efforts, she raised her initial fundraising target of £50,000 to £250,000.
Praise for Kate's campaign has been widespread and heartfelt. In the wake of the campaign, the NHS has launched the Kate Granger Awards for Compassionate Care, recognising and celebrating outstanding patient care. In summer 2015, Kate went to Buckingham Palace to receive her MBE for services to the NHS and improving care.
Kate sadly passed away in July 2016.