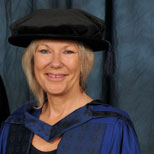 Dr Jude Kelly OBE
Honorary Doctor of Letters
She has directed more than 100 productions, including with the Royal Shakespeare Company, the National Theatre and in the West End. For the past eight years, she has been at the helm of the Southbank Centre, Britain's largest cultural institution.
Jude Kelly's love of theatre dates back to her childhood in Liverpool, where she would put on plays in her backyard with the neighbours' children. 'I've always had a passion for telling a story,' she says. At Quarry Bank School, she was taught by John Lennon's old headmaster, Bill Pobjoy, who encouraged his pupils to be creative. Already determined to become a director, she chose to study drama at Birmingham, one of a small handful of single honours degree courses available at the time.
On graduating, she founded the Hampshire-based touring community company, Solent People's Theatre. She then moved to London to found the Battersea Arts Centre. Here, she was able to start exploring her ideas on making the arts more accessible and welcoming to different audiences by creating a vibrant mixed space, with a cinema, theatre, gallery and café on a single site, as well as a strong education programme.
In 1990 came the opportunity that was to firmly establish her as a force on the UK arts scene. As founding director of the West Yorkshire Playhouse in Leeds, she was to spend the next 12 years developing the theatre into an acknowledged centre of excellence, with a global reputation for challenging and exciting productions. She also worked hard to involve the local community, establishing a dynamic programme for schools, children, adults with learning difficulties and older people that is still thriving today.
Then in autumn 2005, she was appointed artistic director of the Southbank Centre, marking the start of what she has described as 'a passionate love affair'. Over the past eight years, she has sought to open the Southbank up, creating what she calls 'an atmosphere of warmth and community involvement, full of people not just watching, but doing things themselves.'
So, alongside an arts programme that spans music from Mozart to Joy Division, theatre, film, art, photography and more, visitors to the Southbank over the past few years will have encountered gardens, beaches, fountains, topiary and even giant foxes. There's a family centre, a youth hub, education spaces, rehearsal space and a poetry and literature centre. It's a vibrant illustration of the principles of excellence and egalitarianism on which the Southbank was originally founded, and which Jude Kelly has sought to bring back to life.
In addition to her role at the Southbank Centre, Jude is founder and chair of Metal, an 'artistic laboratory' set up to provide spaces where artists from all disciplines can meet to share ideas. Metal has bases in Liverpool, Peterborough and Southend-on-Sea. She is a member of the London Cultural Strategy Group, and Visiting Professor at Kingston and Leeds Universities, the Hong Kong Centre for the Performing Arts and the Shanghai Centre for the Performing Arts. She was also part of the London 2012 Cultural Olympiad Board.