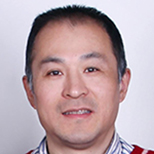 Dr Jin Luo
Associate Professor in Medical Technology
Applied Sciences / Human Sciences
Dr Luo is an Associate Professor in Medical Technology in the School of Applied Sciences. He was awarded his PhD in Mechanical Engineering from Dublin City University, Ireland in 2004 for his work on the development of a vibration device for muscle strength and power training. Prior to that, he had worked as a researcher for 10 years in China Astronaut Research and Training Centre in Beijing on the biomechanical effect of vibration and impact on human body.
Between 2005 and 2010 Dr Luo had been a research associate on spine biomechanics in Bristol University. He then worked as a Senior Lecturer in the University of Roehampton, London before joining in LSBU in 2016.
Dr Luo has expertise in areas such as human vibration and impact, spine biomechanics, and physical activity monitoring for musculoskeletal health. His research work has won a number of prestigious awards, including the 2014 Annual Biomechanics prize of the International Society for the Study of the Lumbar Spine (ISSLS) and 2010 Best Basic Science Paper Prize of the British Spine Society. His current research interest is on the development of new technologies to promote healthy ageing and to treat ageing-related musculoskeletal disorders.
Dr Luo is currently teaching in the following undergraduate modules:
Physics for Life (Level 5)
Social Aspects of Science (Level 6)
Dr Luo's research interest is on the development of new technologies to promote healthy ageing and to treat ageing-related musculoskeletal disorders. He is currently engaged in a number of projects in this research area:
Early detection of acute vertebral fracture by a novel, non-invasive screening technique (funded by the Sir Halley Stewart Trust): The purpose of this project is to research an innovative approach that can detect a recently acquired vertebral fracture by acoustic emission technique. This can be used as a screening tool to help clinicians identify 'at risk' patients as early as possible so that appropriate treatment can be provided.
Micro-metre scale analysis of human vertebral bone damage (funded by the Sir Halley Stewart Trust and Diamond Light Source): The purpose of this project is to understand how pre-existing damage evolves at the micro-metre scale under physiological loading in vertebral bone. Synchrotron radiation micro-CT in Diamond Light Source (UK's national synchrotron facility) will be used to quantify the extent and feature of micro-damage in bone samples. This information may enable us to understand further how vertebral body develop progressive deformity in people with osteoporosis.
Loading dose of physical activity and its association with bone mineral density and fracture risk: The aim of this project is to analyse the acceleration and imaging data collected from over 5,000 participants by UK Biobank in order to establish the dose-response relationship between physical activity and bone density, muscle mass, and risk of fracture. Derived relationships from this research can have substantial value in predicting fracture risk and formulating health guidelines.
Fellow of the Higher Education Academy
Member of European Society of Biomechanics
Member of Society for Back Pain Research
Dr Luo has been the invited reviewer for a number of scientific journals, including Journal of Biomechanics, Clinical Biomechanics, Journal of Sports Science, European Journal of Sport Science, Archives of Physical Medicine and Rehabilitation, Medical Engineering and Physics, Journal of Physical Activity and Health, Research Quarterly for Exercise and Sport, Journal of Bone and Mineral Research, BMC Musculoskeletal Disorders, Journal of Osteoporosis and Physical Activity, and International Journal of Environmental Research and Public Health.