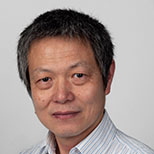 Dr Jian-Guo Zhang
Senior Lecturer
Engineering / Electrical and Electronic Engineering
Dr Zhang's research interests include ultrahigh-speed all-optical communication systems, photonic switching networks, avionics optical fiber data buses/LANs, gain-switched semiconductor lasers, femtosecond mode-locked fiber lasers, and address code design for optical code-division multiple access (OCDMA), respectively. In these areas, he has authored and co-authored over 90 journal papers since 1993. Moreover, he is a recipient of Young Scientist Award from the 1995 URSI/IEEE International Symposium on Signals, Systems and Electronics (ISSSE'95), 1996 URSI Young Scientist Award from the International Union of Radio Science (URSI), Best Paper Award from the Second International Symposium on Communication Systems, Networks and Digital Signal Processing (CSNDSP2000), and a co-recipient of Third-Prize Paper Award from the China Association for Science and Technology in 2009, respectively.
MSc Unit - "Information Theory and Error Control Techniques"
MSc Unit - "Optical Fibre Communications"
BEng Unit - "Optical Fibre and Microwave Transmission Systems"
BEng Unit - "Fundamentals of Transmission Channels 2"
HND Unit - "Communications Engineering"
Workshop for BEng Unit - "Engineering Science"