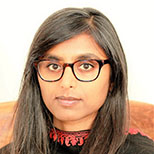 Dr Jaya Gajparia
Senior Lecturer
Law and Social Sciences / Social Sciences
Dr Jaya Gajparia is a Senior Lecturer in the division of Social Sciences, School of Law and Social Sciences. She teaches a range of undergraduate and postgraduate courses London South Bank University. She is the course director of the Masters degree in Education for Sustainability and a doctoral supervisor. She is the lead for the schools Sustainability Research Group and a member of the LSBU Sustainability Steering Group.
Jaya began her academic career in 2011 with her doctoral research titled "Gender, Poverty and Development in Mumbai: A Study of Policy, Perceptions and Practice" funded by the Institute of Social Science Research (ISSR).
Her research interests are on gender equality, ethnicity, race, intersectionality, poverty alleviation, sustainability, systems thinking, social justice, inclusive education, postcolonial and third world feminism.
Before starting her academic career, Jaya spent over ten years in the charity sector working on disability and age, gender discrimination, equality and human rights. Jaya has been actively supporting several grassroots NGOs in India since 2005. She also a charity trustee for London Environmental Education Forum (LEEF).
Dr Jaya Gajparia has been teaching in Higher Education since 2014. Her teaching philosophy is premised on adopting different methods to integrate theory and practice, with the aim to empower her students to understand and apply theoretical frameworks combined with their own experiences for practical application.

At LSBU, Jaya teaches both taught and distance learning programmes at undergraduate and postgraduate levels. She also has teaching experience on study abroad programmes at Ithaca College, London Centre, as course leader on a gender and sociology module.
Dr Jaya Gajparia is currently working with colleagues in Durham and Melborne in establishing the International Network on Public Sexual Harassment.
Dr Jaya Gajparia is a member of the British Sociological Association, the Development Studies Association, and the Feminist and Women's Studies Association.
Dr Jaya Gajparia is actively involved in supporting several Mumbai based NGOs working on gender related issues. She is also an accredited yoga practitioner earning her qualification in 2016.