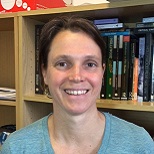 Dr Iris Luppa
Senior Lecturer: Film Studies
Arts and Creative Industries / Film and Media
Dr Iris Luppa is a Senior Lecturer in Film Studies in the Department of Culture, Writing and Performance. She holds a BA in Drama and Theatre Studies from Royal Holloway, University of London.
Her MA in Film and Drama and PhD in Film Studies were both completed at the University of Reading and she has taught at LSBU since 2007.
Her research interests include Weimar cinema and theatre, writing on film in Germany in the 1920s and Weimar exile directors in Hollywood.
BA Film Studies
Level 4 (Year 1)
Reading the Screen: critical approaches
Level 5 (Year 2)
Weimar Cinema/Soviet Montage
Documentary Film Theory/Practice (practical component)
Level 6 (Year 3)
Critical Film practice (practical component)
Dissertation supervision
Dr Luppa's research is broadly concerned with the epistemic dimensions of Weimar cinema and culture, in particular the relationship between film and theatre. She is particularly interested in the influence of Bertolt Brecht's theatrical concepts on filmmaking in Weimar cinema's pre-fascist period and the strong link between writing on film and theatre in Berlin's film and cultural journals. Other strands of her research explore the continued influence of Weimar modernism on films made in Hollywood during the classical period by Weimar exile directors, with a particular interest in the films of Fritz Lang. She welcome enquiries from prospective postgraduate students on any aspect of her research interests.