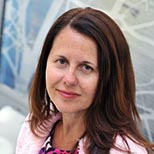 Dr Ingrid Bacon
Senior Lecturer
Health and Social Care / Allied Health Sciences
Dr Ingrid Bacon joined London South Bank University (LSBU) in 2016 as a Senior Lecturer in Occupational Therapy within the School of Health and Social Care.
Ingrid has worked as lecturer at Brunel University, within the Department of Clinical Sciences, Division of Occupational Therapy and Community Nursing. She joined the Department of Clinical Sciences in 2011, on a PhD studentship with teaching responsibilities. She brought more than 17 years of clinical experience in mental health to these programmes, including motivational interviewing, family therapy work, group work and anxiety management work (mindfulness).
Ingrid has worked in a variety of settings in the UK, West Africa and Brazil. She has a Masters degree in Health Studies and a Masters degree in Psychology. Her research interests are substance misuse, co-dependency, identity and phenomenology.
Ingrid has 15 years of experience training qualified allied health professionals in mental health rehabilitation, in the UK and internationally. She also has experience in coordinating course programmes and module leadership.
When working as a lecturer at Brunel University, Ingrid coordinated the MSc programme, taught and led a number of modules within the programme. At LSBU, she has a number of responsibilities and teaches on a range of modules across undergraduate and postgraduate programmes.
Her subject areas of expertise are mental health theory and practice, substance misuse, codependency, theories of family therapy and family practice, motivational interviewing and counselling skills, research and scholarship, recovery and social inclusion, model of human occupation, identity, life span development, individual differences, and group work skills
Ingrid's research is in the areas of substance misuse, codependency, identity and phenomenology. Her PhD research thesis is entitled 'An exploration of the experience of codependency through interpretive phenomenological analysis'.
Member of the British Association of Occupational Therapy
Registered with the Health Professions Council
Member of the British Psychological Society
Fellow of the Higher Education Academy
Ingrid works as a community volunteer, acting as a pastoral care worker at Hillsong London, assisting the local community in health promotion and mental health wellbeing.