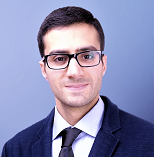 Dr Hamed Rajabi
Lecturer
Engineering / Mechanical Engineering and Design
Dr Hamed Rajabi is a lecturer at LSBU. He leads the LifeDesign Lab, where he and his group work on the mechanics of biological materials/structures and their biomimetic applications for technology. Hamed's research has particularly had a strong impact on our understanding of biomechanics of insect flight, wing and cuticle. His aim is to develop nature-inspired concepts and elaborate them into a technology readiness level that can be directly converted into marketable products, especially in the areas of structural reinforcement, lightweight construction, healthcare systems and space robotics.
Hamed defended his first PhD in Mechanical Engineering at the University of Guilan-Iran in September 2016 and his second PhD in Science at Kiel University-Germany in January 2019. He has contributed over 50 publications in prestigious international journals including Advanced Science, Science Robotics, Acta Biomaterialia, Materials & Design, Journal of the Royal Society Interface, one book chapter and two patents. He has won several national and international awards, including the KiNSIS Best PhD Dissertation Award in 2020, Kiel Life Science Postdoctoral Award in 2019 and the Distinguished Student Award of International Society of Bionic Engineering (ISBE) in 2017. He has been the first-named investigator on multiple grant applications. He is also co-founder and supervising producer of the YouTube channel Science4Everyone, which aims to bridge between science and public.
Hamed is providing service as a member of the Editorial Board of Frontiers in Mechanical Engineering and Journal of Bionic Engineering, and Standing Member of the Youth Committee of the International Society of Bionic Engineering. He has guest-edited Special Issues in Applied Physics A and Insects.
Hamed has an extensive experience in working with students from both science and engineering backgrounds. He is particularly interested in teaching Solid Mechanics courses, such as Statics, Mechanics of Materials, Mechanics of Composite Materials, and Machine Tools/Mechanical Design.
Editorial Board member of Frontiers in Mechanical Engineering (Frontiers)
Editorial Board member of Journal of Bionic Engineering (Springer)
Guest-editor of the Special Issue "Biological and Biomimetic Materials", Applied Physics A (Springer)
Co-founder and Supervising Producer of the YouTube Channel Science4Everyone
Standing Member of the Youth Committee of the International Society of Bionic Engineering (ISBE)
Member of the International Association of Engineers (IAENG)
Member of the International Society of Bionic Engineering (ISBE)