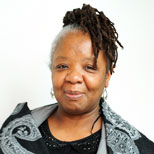 Dr Gloria Gordon
Senior Lecturer; Project Coordinator, Final Year HR Pathway
Business / Management, Marketing and People
Dr Gordon's interests lie in bringing about individual and collective transformational change using autobiographical research. She uses this personal method to facilitate excellence in diversity and to raise the aspirational levels of learners towards greater achievement. The approach is also an important professional development tool, enabling the liberation of individual creativity and potential.
Dr Gordon developed the human centred passionate appreciative (HCPA) approach that underpins her practice using autobiographical research. Feedback from students in her classes is that they 'feel grounded and assured…more secure in themselves and the society' as a result of her learning and teaching philosophy.
Dr Gordon is also founder of the Centre for British African Caribbean Studies (CBACS). The Centre pioneers 'bicultural competence' as a way by which British society can more effectively engage with the challenges of globalisation and multiculturalism. Strategic focus on the British African Caribbean (BAC) experience supports LSBU's community-focussed mission as well as government initiatives aimed at widening participation, social inclusion and development of values-based education whilst undermining educational underachievement and school exclusions.
Lessons learned from the BAC experience are used to not only support transformation amongst BAC learners but also to help crystallise key learning and teaching issues relating to social cohesion and social justice issues for the wider society. As such, the Centre also targets teachers as important candidates for transformational change. Dr Gordon offers particular expertise on the integration of diverse identities, vital to the concept of social cohesion, as well as supporting the development of identity capital.
The Metanoia Project 2007-2034 is a further initiative introduced by Dr Gordon for galvanising a social movement for personal and social change. The aim of the initiative is to achieve William Wilberforce's second project: the reformation of manners (culture). Dr Gordon is author of Towards Bicultural Competence: Beyond Black and White (Trentham Books, 2007).
Gloria became a National Teaching Fellow in 2002.