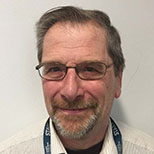 Dr Glenn Strachan
Lecturer, Education for Sustainability
Law and Social Sciences / Social Sciences
Dr Strachan is qualified as a secondary school teacher with a PGCE in Geography and Biology and is a qualified Careers Teacher. He has held a range of education posts including: Head of Geography in a comprehensive school, local authority advisory teacher for Political and International Understanding and Citizenship, Deputy Head of Community Education and Training in a Further Education College. He is also Head of Education at the Earth Centre Millennium Project.

Dr Strachan gained his MSc at LSBU and a PhD at the University of Gloucestershire. He has been a tutor on the Education for Sustainability MSc at LSBU since 2002 and was co-director of the Education for Sustainability Programme from 2005 to 2008.

Since 2002 he has also worked as an independent consultant researching and managing projects in the fields of education and sustainable development, including the Professional Practice for Sustainable Development project (PP4SD), developing guidance on Education for Sustainable Development and Global Citizenship (ESDGC) for schools and colleges for the Welsh Government, and evaluating a diverse range of European projects.
Glenn teaches the following modules on the MSc Education for Sustainability course:
Module 1, Introduction to Education for Sustainability
Module 3, Leading, learning and climate change – the sustainability revolution
Dissertation supervision
Dr Strachan's PhD research was concerned with the role that the sustainable design of education buildings can have as a catalyst for institutional change in further education colleges. He is also active in evaluating pedagogical approaches in the field of education for sustainability.
Dr Strachan is a member of the Institution of Environmental Sciences.
Dr Strachan holds the voluntary position of Chair of the Shared Earth Trust, which is an environmental charity responsible for running the Denmark Farm Conservation Centre in West Wales, a nature reserve with residential and training facilities.
He also manages his own two acre smallholding.