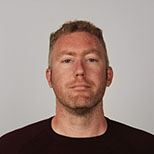 Dr Finian McCann
Senior Lecturer in Civil and Building Services Engineering
Built Environment and Architecture / Civil and Building Services Engineering
Dr Finian McCann is Senior Lecturer in Structural Engineering in the School of the Built Environment and Architecture, with research interests including nonlinear structural mechanics, metallic foams, steel structures, glass-polymer structural composites, structural fire safety and timber structures.

After being awarded a PhD from Imperial College London in 2012, he worked for Heerema Marine Contractors as an innovation engineer, conducting both experimental and numerical analyses of polymer-coated steel subsea pipelines. In 2013, while continuing to work part-time for HMC, he returned to Imperial College as a postdoctoral research associate working on the EU-funded FRISCC project to update the European structural standard EN 1994-1-1 on composite steel-concrete structures. In 2015, Dr McCann joined LSBU where he has continued to conduct research on steel structures in addition to extending his research interests to structural fire safety, metallic foams, recycled glass bead sandwich panels and timber structures, both in academic and commercial contexts.
Dr McCann is Course Director for MSc Civil Engineering and MSc Structural Engineering.
He currently lectures structural analysis, structural dynamics, structural design, engineering mathematics and numerical analysis modules at both undergraduate and postgraduate levels.
Dr McCann conducts analytical, numerical and experimental research into various structural engineering systems and materials, both for academic research and industrial R&D. His research interests include:
Steel elliptical hollow sections
Nonlinear structural mechanics
Structural fire safety / elevated temperature behaviour
High-strength steels
3D-printed polymer structural components
Metallic foams
Glass-polymer structural composites
He holds a patent (1806000.4) concerning an innovation to improve the fire safety of ventilated cladding panels.
Chartered Engineer (CEng)
Member of the Institution of Civil Engineers (MICE)
Member of the Institute of Mathematics and its Applications (MIMA)
Member of the Institution of Mechanical Engineers (MIMechE)
Fellow of the Higher Education Academy (FHEA)