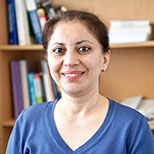 Dr Fatemeh Jahanzad
Senior Lecturer
Engineering / Chemical and Energy Engineering
Dr Jahanzad is the head of teaching and learning in Chemical and Energy Engineering (CEE) Division. She is responsible for smooth running of teaching and learning activities in CEE and works closely with the head of division to meet all quality assurance requirements for CEE courses.
She specialises in emulsions and polymer reaction engineering, with interests in emulsifications techniques and microfluidics.
Dr Jahanzad main teaching interest is in process design. She leads design and simulation module in second year and Design Project in third year. She is also responsible for Dissertation and Group Projects modules for MSc and fourth year MEng courses.
Dr Jahanzad specialises in kinetic modelling of polymerisation reactions, modelling of particle size distribution in dispersed media, emulsion and suspension polymerisation, and phase inversion emulsification. In recent years, she has been involved in production of structured cylindrical and spherical porous microparticles using microfluidic devices. She has published more than 30 articles in peer-reviewed journals including highly-regarded journals such as Langmuir.
See Dr Jahanzad's publications at LSBU Open Research
Dr Jahanzad is a fellow of Academy of Higher Education and an associate member of Institute of Chemical Engineers (IChemE).