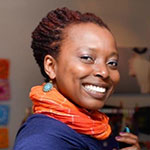 Dr Esmorie Miller
Lecturer in Criminology
Law and Social Sciences / Social Sciences
Dr. Esmorie Miller's research interests explore the role of race in contemporary youth justice through the following lenses: institutional policies and practices around urban youth gangs; historical narratives on youth justice reform; policing surveillance in schools; and the role of race and gender in punishment. Methodologically, Dr. Miller's work takes a cross national, comparative approach, looking at the English and Canadian contexts, and making reference to the wider UK, Europe, and the United States.
Esmorie completed her PhD in Political Theory at Queen's University Belfast in December 2015. The research took a comparative approach, exploring the discernible cross national convergence of statutory responses to the inner-city youth gang phenomenon, emerging between the 1990s and early 2000s, in England and Canada. Her masters in Political Theory was awarded by the Department of Politics, University of Waterloo, Canada. As a doctoral candidate she secured a £10 000 Santander Scholarship, towards her research.
Esmorie has been contracted to complete her first monograph as part of the Routledge (UK) Critical Studies in Crime, Diversity and Criminal Justice (Forthcoming, 2019). This book provides a useful link to broader, recurring, discussions that are international in scope regarding a historical tendency to penalise racialised youth and how this tendency undermines access to opportunity structures, including education and employment. As a case example the book reflects on the institutional approach to gangs and advances a discussion on the role of gangs in youths lives — both as violent and non-violent actions and outcomes.
Esmorie teaches on following modules: Understanding Punishment, Penal Theory, Policy, and Practice; Deconstructing the Crime Problem; Gender, Crime, and Justice; Youth, Crime, and Delinquenc.
Esmorie currently supervises third year students in the completion of their final projects.
Dr. Miller has one monograph and two articles in progress, which corroborate research expertise from an international perspective, and which similarly explore the place of policing surveillance, race and racialisation in youth justice.
Her monograph is part of the Routledge (UK) Critical Studies in Crime, Diversity and Criminal Justice (Forthcoming, 2019).
The first article, 'Outsiders on The Inside — Race in Early Twentieth Century British Youth Penal Reform', chronicles the role early 20th century Victorian penal reform ideals played in shaping punitive attitudes, towards racialised youth, in England and Wales. The central idea which guides this piece is that historically racialised youth were outside the imaginings of Victorian penal reformers, and that this 'outsider' status still pertains to contemporary youth justice. Resonating within a wider narrative concerning racial discrimination in contemporary youth justice, the article focuses on youth penal reform in England, especially the recurrent policing of racialised youth, and makes reference to broader European and North American influences.
The second article, 'Did Toronto's School Resource Officers' Program Reflect a Conflict Between Surveillance and Social Justice?' explores the wider punitive implications of institutional efforts to assign armed, and uniformed police officers to schools in Toronto, Canada. The article investigates how the institutional framing of policing surveillance efforts as social justice was challenged within the context of an emergent resistance to Afro-centric racism, in Canada.
The European Society of Criminology
The European Forum for Restorative Justice
The Eurogang Network
The Canadian Criminal Justice Association
Esmorie is currently an active member of the Eurogang Research Group. This is a subgroup of the European Society of Criminology. The group is in its twentieth year, and as a newly minted member she is excited to take part in the development and expansion of research methodologies/instruments that can be used by researchers interested in both comparative research and, or, comparative, gang ethnography.