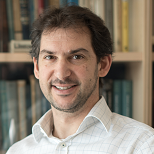 Dr Enrico Grisan
Senior Lecturer in Artificial Intelligence
Engineering / Computer Science and Informatics
Dr Enrico Grisan is Senior Lecturer in Artificial Intelligence and Big Data at London South Bank University, visiting senior lecturer at King's College London and honorary research fellow at University of Warwick.
Dr Grisan graduated in Electrical Engineering at the University of Padova in 2001, and obtained a PhD in Bioengineering jointly from University of Padova and City University London in 2005. After being intern in Siemens Corporate Research in 2005, and then post-doc fellow in Padova, where he was appointed Assistant Professor (Lecturer) in Bioengineering in 2008. He joined LSBU in 2019.
Dr Grisan is senior member of IEEE, and since 2015 member of the IEEE-EMBC Technical Committee on Biomedical Imaging and Image Processing. He has served as general chair of IEEE International Symposium on Biomedical Imaging (IEEE-ISBI) in 2019, is general chair of IEEE International Ultrasonics Symposium (IEEE-IUS) in 2022.
Current teaching
2019-current: CSI-7-MAL Machine Learning
2017-current: online postgraduate Master on "Machine Learning in the Clinical Research and Practice" offered by the University of Padova
Past teaching
2019-2020: Biomedical Instrumentation, BSc program in Biomedical Engineering, University of Padova
Dr Grisan's main research activities involve classical image analysis and computer vision methods for the understanding and interpretation of biomedical images, often coupled with machine learning techniques for the extraction of hidden or implicit knowledge from images as image-derived biomarkers, so to provide relevant guidance to the clinical end-user.
He has expertise in the application of these techniques to a wide range of data, including retinal images, confocal endomicroscopy images for virtual histology, multispectral MRI for quantifying cortical lesion burden, contrast-enhanced ultrasound and prenatal ultrasound, microscopy images for neuroanatomical characterization in non-human mammals.