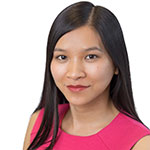 Dr Emily Ngan Luong
Senior Lecturer
Business / Management, Marketing and People
Dr Emily Ngan Luong is the Course Director for Postgraduate Marketing Programmes. She is also a Senior Lecturer in Marketing at LBSU Business School.
Emily has a PhD in Marketing from the University of Birmingham, and a postgraduate degree in Hospitality and Tourism Management from the University of Strathclyde. Her research centres on the interface between entrepreneurship/marketing and how technology is utilised in SMEs to facilitate marketing strategy. Her recent research explores entrepreneurial marketing activities and behaviours in the hospitality and tourism industry within the context of emerging markets. She is currently supervising PhD projects on the topics surrounding entrepreneurship, marketing, social entrepreneurship, and emerging markets.
Emily leads modules on both Undergraduate and Postgraduate levels including International Brand Management, Research Methods, International Marketing, The Innovation and Product Manager, Marketing Internship.
Emily is interested in entrepreneurial marketing field in the context of small and medium enterprises. Her current research explores entrepreneurial marketing in the independent hospitality industry in emerging markets.
Her future research focuses on the interface between entrepreneurship and marketing in various industries from the perspectives of both developed and emerging markets.
Conferences, workshops and presentations
The 7th International Conference on Tourism Management and Related Issues
Presentation topic: The Role of Online Platforms in Hospitality Marketing: an Adaptive Structuration Perspective Milan, Italy
Sep 2017
2017 Global Research Symposium on Marketing and Entrepreneurship
Presentation topic: Reconciling 30 years of diverse approaches to EM research using structuration theory - evidences from Vietnamese independent hospitality industry San Francisco, USA
Aug 2017
Academy of Marketing 2017
Presentation topic: Provoking entrepreneurial marketing: a study of the film industry Hull, UK
Jul 2017

2016 Global Research Symposium on Marketing and Entrepreneurship
Presentation topic: Towards a typology of entrepreneurial marketing strategies - A study of small hospitality firms in Vietnam San Diego, USA
Aug 2016

14th Biennial Conference of International Society for Markets and Development
Presentation topic: Entrepreneurial marketing typology in emerging market Evidence from small hospitality firms in Vietnam Lima, Peru
Aug 2016

Birmingham Business School – Workshop in Qualitative Data Analysis
Presentation topic: Using comparative data analysis method to develop a typology of entrepreneurial marketing strategies Birmingham, UK
Apr 2016

Midlands Regional Doctoral Colloquium
Presentation topic: Entrepreneurial marketing and the social media interface – An empirical study of small boutique hotels in Vietnam Birmingham, UK
Jun 2015

British Academy of Management Workshop: Innovation in E-Business and E-Government
Presentation topic: The interface between entrepreneurial marketing and social media – Evidence from small hotel firms in Vietnam Glasgow, UK
May 2015

Academy of Marketing – 19th International Colloquium on Entrepreneurial and Small Business Marketing
Presentation topic: Social customer relationship management – A study of small hotels in Vietnam and the UK Birmingham, UK
Sep 2014