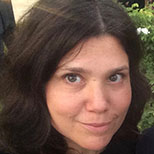 Dr Elian Weizman
Lecturer
Law and Social Sciences / Social Sciences
Elian is a lecturer in International Relations at the Division of Social Sciences, School of Law and Social Sciences. Before joining LSBU she was a lecturer in Middle East Politics at the School of Oriental and African Studies, University of London, where she also completed her PhD in 2013. Previously she served as the Deputy Director of the Kenyon Institute in Occupied East Jerusalem, part of the Council for British Research in the Levant (2015-17). She is interested in the politics of knowledge production, and practices of resistance from within settler (colonial) societies, the politics of Israel/Palestine and Zionism.
Elian has been teaching in since 2009 on a range of topics and across disciplines. Modules taught by her include: the history of the British settler societies; the government and politics of the Middle East; the history of the Arab-Israeli conflict, critical approach to Israeli state and society; the law and politics of state violence and Introduction to Political analysis.
She is the recipient of the SOAS Director's Teaching Prize for 'inspirational teaching' in 2015.
Elian's research agenda is grounded in the case of Israel/Palestine, but speaks more broadly to the study of (settler) colonial regimes, paying particular attention to the dynamics of resistance within settler colonial states, the intersection of law and violence and the politics of knowledge production in these contexts. Her current research focuses on resistance practices of anti-Zionist Jewish Israelis in contemporary Israel. Elian also co-coordinate an interdisciplinary network around the themes of settler colonialism, knowledge production and anticolonial/decolonial praxis.
Council for British Research in the Levant (CBRL) (trustee 2018-present)
International Studies Association (ISA)
British International Studies Association (BISA)
British Society for Middle East Studies (BRISMES)
Elian is member of the board of trustees of the Council for British Research in the Levant (CBRL), an academic hub for the study of the Middle Eastern countries of Jordan, Palestine/Israel, Lebanon, Syria and Cyprus (what is considered to be 'the Levant'). Covering the breadth of the social sciences and humanities, it connects UK academia to the region through to research institutes – in Occupied East Jerusalem and in Amman.
Elian also co-coordinates the "Decolonising Knowledge Production in Settler Colonial States" Workshop and Research Laboratory, multiple locations, including: Palestine (CBRL, 2017), London (LSE, 2017), San Francisco (2018), Canada (University of Toronto, 2019).