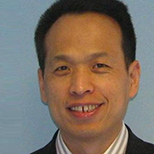 Dr Donglin Zhao
Senior Lecturer
Engineering / Chemical and Energy Engineering
Dr Zhao is a Senior Lecturer in chemical engineering in Division of Chemical and Energy Engineering, School of Engineering. He is link tutor for British University in Egypt.
Dr Zhao has significant experience in teaching and research in UK high education. Following gaining his PhD in the University of Surrey, he worked in a number of universities such as Surrey, Brunel and Nottingham. He joined LSBU in 2011.
Dr Zhao's teaching activities are mainly involved in teaching L5, L6 and L7 modules in the areas of process simulation, simultaneous heat & mass transfer processes, process design and multiphase flow. He always relates his teaching to industrial applications and fundamental research. He is a fellow of HEA.
Dr Zhao teaches on the following modules:
Chemical Engineering Process 1 (L5)
Chemical Engineering Design and Practice (L5)
Fluid & Separation (L5)
Chemical Engineering Process 2 (L6)
Chemical Process Management (L7)
Multiphase Flow (L7)
Dr Zhao has wide interests in fundamental research on mass and heat transfer in multiphase systems, particularly focusing on novel reactor design and new process development spanning from mass transfer in jet loop reactor to liquid macro- and micro-mixing in stirred tanks; from boiling heat transfer enhancement to phase distribution in pipes and bends and from studying the behaviour of normal fluids to that of ionic liquids. Oxyfuel combustion, H2 production and flow assurance in pipeline are his current research areas.
See Dr Zhao's publications at LSBU Open Reseach