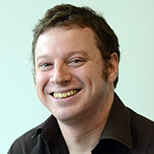 Prof. Daniel Frings
Professor of Social Psychology
Applied Sciences / Psychology
Professor Daniel Frings gained his PhD from the University of Kent in 2008 and, after a short period as a visiting researcher at University of California, Santa Barbara, joined London South Bank University the same year. He was promoted to the position of Associate Professor in 2015 and of Professor in 2019.
Since joining LSBU in 2007, Professor Daniel Frings has developed his research interests in social identity and group psychology, conducting both basic research and applied research with partners such as the MOD and the London Metropolitan police service. This has received funding from a variety of sources including the Economic Social Research Council, the British Academy, Alcohol Research UK and Cancer Research UK. During this process, Professor Frings has developed a track record of securing funding and producing international peer-reviewed publications.
Within LSBU, he currently serves as Vice Chair of the University Ethics Committee. He has experience with teaching and course design at all Higher Education levels, as well as being the Programme Director for the BSc Undergraduate Psychology courses from 2010-13.
BSc Psychology
Psychology of Inter- and Intra-Group Processes
MSc Addiction Psychology and Counselling
Advanced Addiction Psychology
Theoretical Foundations of Addiction Counselling and Psychology
Dr Daniel Frings is interested primarily in both intra and intergroup process, and the application of motivational approaches to understand them. His research is split broadly into four streams.
Social identities
How they can be utilised to improve health outcomes, increase employee retention and generally have beneficial effects on group members. He is currently addressing the question of how group identity affects treatment outcome amongst addicts. Other research in this area links the social identity of police officers with psychological resilience.
Group/team membership and performance
Dr Frings also has a continuing interest how groups monitor themselves to protect individual members from the effects of impairing factors such as fatigue and alcohol intoxication. This research has been funded by the ESRC, and has involved collaboration with the MOD.
Motivation
His third stream of research investigates the underlying motivational states drive behaviour. Working within the biopsychosocial model of challenge and threat, Dr Frings uses physiological measures which index psychological states. Current research links this with responses to deviance, performance of sports-people and visual search strategies.
Addiction
The main focus of this stream is the development of the Social Identity model of Cessation Maintenance (SIMCM; Frings and Albery 2015; 2016). This model describes how social identities associated with addiction and recovery operate at implicit and explicit levels to affect behaviour (including maintenance of cessation). Other work in this includes the physiological effects of craving and desire, the effects of public health messages on attention and behaviour, the effects of e-cigarette advertising on cognition.
Publications
Dr Frings regularly publishes in a wide range of international peer reviewed journals (Including Journal of Experimental Psychology: Applied, Journal of Addictive Behaviors and Group Dynamics: Theory, Research and Practice). His research has been funded by a variety of institutions including the Economic Social Research Council and the British Academy. He is also a member of the European Association of Social Psychology. He regularly reviews for top ranked Psychology journals, and is an invited member of the ESRC Peer Review College.
Dr Frings also sits on the University Research Ethics Committee so has an understanding of the key issues surrounding research with human participants.
His specialist areas include:
Social psychology
Group psychology and performance
Motivational processes
Social identity
Addiction
Full member, European Association of Social Psychology
Senior Fellow, Advance Higher Education