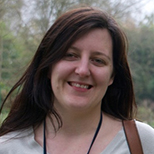 Dr Claire M. Benson
Senior Lecturer
Dr Claire M. Benson is a fire and explosion scientist with over 15 years' experience researching and lecturing as part of the Explosion and Fire Research Group. She has a PhD in chemical engineering, specialising in high pressure oxygen system safety.
Her other research areas include aeronautical fire suppression, fire investigation, and hydrogen safety. She has conducted research for the London Fire Brigade, Sellafield Ltd and the Ministry of Defence, and collaborated with the British Standards Institution, the Health and Safety Executive, and numerous aerospace and industrial engineering companies.
Claire is currently lecturing as part of the process safety & environmental protection module, providing insights on risk and environmental management methods. Claire is also module leader for the engineering management module where she is lecturing on project and engineering management methods and techniques. She also supports engineering principles tutorials and lectured on fire investigation, fire chemistry and thermodynamics, and fire safety assessment.
Claire is currently collaborating with a large team of aviation experts in universities and industry as part of the ENABLEH2 project to develop green hydrogen propulsion systems for civil aviation. Claire is leading the safety work package to analyse and predict possible hazards across the project activities and designs. The work package is examining liquid hydrogen safety for on-board systems, and at airports.
Claire is also collaborating with Cranfield University, Malardalen University, the SP Technical Research Institute of Sweden and Airbus, as part of the CleanSky2 EFFICIENT project to create new green fire suppression's systems for aircraft.
Claire is an active member of the UK association of Fire Investigators, and a member of the International Association of Arson Investigators.