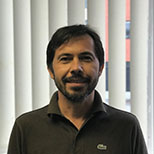 Dr Christos Chrysoulas
Lecturer in Software Engineering & Complexity
Engineering / Computer Science and Informatics
Dr. Christos Chrysoulas is a Lecturer in Software Engineering & Complexity in the Division of Computer Science & Informatics.
He received his Diploma and his Phd in Electrical Engineering from the University of Patras in 2003 and 2009 respectively. During his Phd (2004-2009) and PostDoc studies (2010-2017) his research was focused on Machine Learning, Big Data, E-Learning systems, Computer Networks, High Performance Communication Subsystems Architecture and Implementation, Wireless Networks, New Generation Networks Architectures, Service Oriented Architectures (SOA), Resource Management and Dynamic Service Deployment in New Generation Networks and Communication Networks, Grid Architectures, Semantics, Semantic Grid, Smart Grids, and IoT.
He joined CISTER Research Center as an Invited Researched in 2013. He joined University of Porto as Post-Doc Research fellow in 2014 and from July 2015 he was with the University of Essex, holding a Senior Officer Researcher position.
The outcome of this effort was properly announced in more than 25 technical papers (2 Book Chapter, 7 Journal Papers, and 19 Conference papers) in these areas. Dr. Christos Chrysoulas also participated as Senior Research/Engineer in both European and National Research Projects.
Reviewer in high ranked journals:
International Journal of Network Management, Wiley
Microprocessors and Microsystems, Elsevier
Reviewer on High ranked conferences:
IEEE International Conference on Embedded and Real-Time Computing Systems and Applications (RTCSA)
IEEE International Conference on Industrial Informatics (INDIN)
IEEE International Conference on Emerging Technologies and Factory Automation (ETFA)
IEEE World conference on Factory Communication Systems (WFCS)
Annual Conference of IEEE Industrial Electronics Society (IECON)
He is also an Associate Technical Editor for the IEEE Communications Magazine, and is Member of the Editorial Boards of EURASIP for image and video processing, and of ELSEVIER Signal Processing: Image Communications journals.