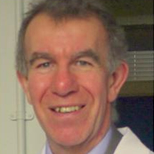 Dr Christopher Brock
Senior Lecturer
Applied Sciences / National Bakery School
Dr Christopher Brock took his first degree in Biochemistry at Jesus College, Cambridge. He completed his Ph.D. on the Structure of Superoxide Dismutase from Bacillus stearothermophilus at the MRC Laboratory of Molecular Biology.
He did his postdoctoral research at the University of Bristol on the human erythrocyte anion transport protein. Most of his career was in food industry research and development at the Institute of Food Research, RHM Research and Engineering Ltd., Flour Milling and Baking Research Association, Parascan Technologies Ltd. and Griffith Laboratories Ltd. At these companies, he worked on many topics including protein structure and function as emulsifiers, and gluten structure and function. He then joined the East Midlands Development Agency where he managed the economic development of the food, drink and other industry sectors.
Dr Brock joined LSBU in 2010.
From 1991, Christopher taught bakery science and technology and the history of the food industry and its factory operations as a visiting lecturer at the University of Nottingham. At LSBU he teaches the same subjects as well as biosciences.
Member of The Biochemical Society.
Assessor for the Technology Strategy Board.