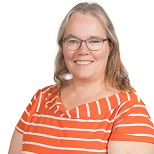 Dr Carrie Rutherford
Head of Division (Croydon)
Business / Business and Enterprise
Dr Carrie Rutherford is a Senior Lecturer and coach in LSBU Business School. She teaches Research Methods to postgraduates and Coaching Skills to undergraduates. She is a Fellow of the Higher Education Academy and is pursuing Senior Fellowship. Dr Rutherford is on the University's Academic Board as well as being School Lead for Admissions and Recruitment and Associate Head of the Division of Business and Enterprise. She has a PhD in Pure Mathematics from Queen Mary, University of London and carries out research in Combinatorial Optimisation.
Dr Rutherford runs the Curiosity Creativity and Research module which introduces MSc students to the research process, the mindset of the researcher and in particular to the idea of creativity in research and what it means to be a 'creative researcher'. In this module, students will identify potential topics for their Capstone Project and explore these with the aid of creative thinking techniques. In this way their research ideas can be refined and expressed in terms of clear research questions and objectives making use of the relevant literature and theoretical concepts.
Dr Rutherford is currently doing research on:
Operational Research
Combinatorial Optimisation
Graph Theory
Matroid Theory
Member London Mathematical Society
Dr Rutherford runs the Maths Study Group which she co-founded in 2005 and which is aimed at providing a forum for mathematically-minded people, within the School and elsewhere, to meet and share ideas. Each week somebody gives an expository talk with the aim of increasing everybody's mathematical general knowledge.