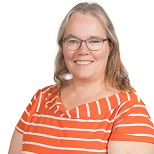 Dr Carrie Rutherford
Senior Lecturer
Business / Business and Enterprise
Dr Carrie Rutherford is a Senior Lecturer and coach in the School of Business at London South Bank University. She teaches Operational Research to postgraduates, Quantitative Studies to undergraduates and Problem Solving to applicants as well as supporting colleagues with non‑mathematical backgrounds.
In Operational Research her innovation is using projects with live clients for student assessment, and in Quantitative Studies she specialises in embedding Entrepreneurial Reasoning into Business modules. She is also researching Combinatorial Optimisation.
Dr Rutherford has a PhD in Pure Mathematics from Queen Mary, University of London and is BE Programme champion and founding member of the London Coaching Practice. She is also pursuing her ILM Level 7 Coaching and Mentoring Certificate.
Level 4 (Year 1)
Professional Competencies including the BE Programme – Coaching skills and Entrepreneurial Reasoning are at the heart of this module which revolves around The EPIIC Bag challenge.
Level 7 (Year 4)
Operational Research and Systems Approaches – live projects are used in the assessment of this module, enabling students to develop their modelling and communication skills.
Project Risk Management – students are expected to bring their own experiences and knowledge to lectures in this module, and discuss how the topics taught relate to them.
Dr Rutherford is currently doing research on:
Operational Research
Combinatorial Optimisation
Graph Theory
Matroid Theory
Dr Rutherford is a member of the London Mathematical Society, a major UK society for mathematics. The Society's activities include publishing journals and books, providing grants to support mathematics and organising scientific meetings and lectures.
Dr Rutherford runs the Maths Study Group which she co-founded in 2005 and which is aimed at providing a forum for mathematically-minded people, within the School and elsewhere, to meet and share ideas. Each week somebody gives an expository talk with the aim of increasing everybody's mathematical general knowledge.