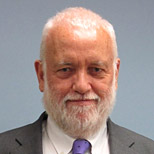 Dr Bob Peters
Senior Research Visiting Fellow
Built Environment and Architecture / Civil and Building Services Engineering
Bob has been involved for almost 50 years in the field of acoustics, noise and vibration. Most of this time has been spent teaching and lecturing, in acoustics and noise control, to MSc and Institute of Acoustics Diploma courses, together with associated writing, research and consultancy activities.
He has been actively engaged in professional activities via the Institute of Acoustics (IOA) throughout his career, having served on IOA Council as Vice President (Groups and Branches), and presently serving on Education Committee and London Branch Committee.
He has organised and contributed as a speaker to many courses, conferences and meetings on various subjects related to acoustics and noise control. He is author of many articles and papers on teaching acoustics and joint author of a textbook, Acoustics and Noise Control, aimed at students (and practitioners) on undergraduate and postgraduates courses for builders, architects, engineers and environmental health officers, as well the IOA Diploma course.
After graduating with Honours in Physics from Imperial College, London, in 1965, he stayed on to carry out postgraduate research in underwater acoustics for four years and then worked in industry (CAV Ltd) on noise from diesel engines and fuel injection equipment, and on noise factories. He left industry in 1972 to work in further and higher education.
Much of Bob's full time teaching career was spent at North East Surrey College of Technology (NESCOT) where, among other responsibilities, he developed the IOA Diploma course, an MSc course in Acoustics (with the University of Surrey) and various short courses in acoustics and noise control including the IOA Certificate of Competence courses.
Bob has also acted as guest lecturer at many Universities, teaching acoustics to undergraduate and postgraduate students on a range of courses, including to audiologists, environmental health officers, architects builders and engineers. He has been a part time lectures on the MSc in Acoustics course at South Bank University for more than 25 years.
In 1997 he retired from full time education to work for a firm of acoustics consultants (AAD), while continuing to teach on a part time basis, including as a tutor on the IOA Diploma distance learning course, writing the distance learning course notes for the General Principles of Acoustics Module. He is a current member and former chairman of the IOA Education Committee and is the examiner for the Project Module.
Bob has always throughout his career been actively involved in the professional activities of the Institute of Acoustic and was awarded the Distinguished Service Award by the IOA in 2007, and the R W B Stephens Medal in 2013 for services to the teaching of Acoustics.
Bob is currently part time tutor on three courses on acoustics at LSBU: MSc in Acoustics, IOA Diploma and IOA Certificate of Competence in Environmental Noise Measurement.
He is Project Examiner for the IoA Diploma and tutor for IOA Distance Learning course, St Albans.
At the beginning of his career Bob's postgraduate research was in underwater acoustics, on the reduction of cavitation noise from ship's propellers. After leaving University he carried out research in industry into noise from diesel engines and diesel fuel injection equipment.
Since entering full time education as a lecturer his interests have been in building acoustics and noise from building services systems and in the development of the teaching of acoustics. His current interest is in the assessment of human response to vibration and promotion of the need to include estimates of uncertainty in noise measurements and predictions.
Member of the Institute of Physics
Fellow of Institute of Acoustics (IOA)
Chartered Engineer
Chartered Institute of Building Services Engineers (Affiliate)
Currently:
Member of IOA Education Committee
Member of IOA London Branch Committee
IOA representative on BSI Committee GME/21/6/4 on revision of BS6472 (Human response to vibration in buildings).
Chair of CIBSE working group responsible for the revision of CIBSE Guide B5 on Noise Control in Building Services Systems, and joint author of sections 9 and 10 (on Noise and Vibration) of revised CIBSE Guide A1.
University of Bath: MSc course in Integrated Environmental Management, (distance learning), Tutor for Energy Efficiency and Renewables Module.
Formerly:
IOA representative on the International Institute for Noise Control Engineering (I – INCE) Technical Sub Group (TSG3) on Noise Policies and Regulations.
Advisor to DTI on Acoustics Research: member of the Acoustics Working Group (of practitioners in Acoustics) that advises DTI and NPL on its Acoustics research programme.
Part time Tutor and Counsellor for Open University.