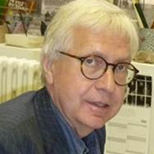 Dr Bob Jarvis
Hourly Paid Lecturer - Urban Design
Law and Social Sciences / Urban, Environment and Leisure Studies
Dr. Bob Jarvis is a town planner with extensive experience in urban design teaching and research.
He worked at Milton Keynes Development Corporation before "Milton Keynes" existed, then undertook a two year research programme joining Tyne and Wear County Council to work on the environmental aspects of their structure plan. He subsequently became Gateshead's first conservation officer - the experience of which has been written as Talking About Special Places for his doctoral research. He also undertook pioneering work for their National Garden Festival.
From 1987 to 2015 he led urban design teaching in the planning courses at LSBU. He has run a series of successful project based programmes in London and elsewhere as well as collaborative projects in Lille, Milan and Venice.
His research and writing has focused on town planning as an art and urban design as choreography. Recently he has begun to develop research interests in Romania.
As well as published academic papers he also contributed the Endpiece to Urban Design Quarterly from 1989 to 2005. In this work he developed the argument that urban design is the core of town planning and that its 'real subject' is everyday life.
Dr Bob Jarvis teaches on project-based urban design modules across the range of the planning courses:
Town Planning as an Art (first year BA)
Strategies, Vision and Design (second year BA)
Specialist Planning Project (design specialism) (third year BA)
Urban Design - The Heart of Planning (MA introductory module)
Urban Design Project (MA Specialist Module)
Everyday Life - Place as Performance (MA Specialist Module)
He also supervises MA and BA dissertations in urban design subjects.
In the past he introduced field study-based urban design projects in various European cities (Lille, Venice, Milan, Turin) as part of earlier versions of the design programme and subsequently contributed to the Sustainable Places module.
He is also a tutor on the Joint Distance Learning MA in Town Planning on the urban design module.
Bob Jarvis's research has developed alongside and has been interwoven with teaching. Study leave to complete a PhD Talking about Special Places (Open University,1994) enabled him to refine and develop a perspective on planning as a language system, though from a socially interactive standpoint that "all planners do is talk about places that aren't yet", reflecting the perspectives of creative writing that a further period of sponsored postgraduate work at Brunel University developed (MA with Distinction, 2005).
The work that he undertook for his MPhil with David L Thomas at Newcastle University (1971- 73) - minute and detailed observations of what we then called normal use - was radically reviewed when he began to participate in contemporary dance: "where in a moment in one of my classes, realising that urban design and choreography were almost the same a subject - the organisation of purposeful narratives or random activities in space and time around physical objects and interaction between participants."
Recently he has have begun to develop interests in Romanian urbanism to provide new and stimulating perspectives - the UK and Romania are at the opposite ends of Europe and Romania's entry into the EU offers exciting possibilities which was reflected in the award of a British Academy Small Projects award.
Dr Jarvis is a member of the RTPI, the IHBC and the Urban Design Group, where for many years he was a member of the Editorial Board of Urban Design Quarterly.
Member of Validation Panel, BA Urban Design University of Westminster (1996)
External Examiner, MA Urban Environmental Design, Leeds Met University (1997-2000)
External Examiner, Urban Design Subject Area, University of West of England (2002-2005)