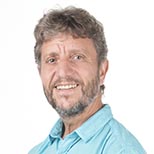 Dr Aziz Ait-Braham
Senior Lecturer
Engineering / Computer Science and Informatics
Aziz Ait-Braham is a Senior Lecturer in Computing/IT, specialising in databases. He joined the University in 1997. He holds an MSc in Software Engineering and a PhD in Computer Science from Liverpool University. He previously worked as a research associate at the University of Manchester Institute of Science and Technology (UMIST). While at UMIST he participated in two major research projects: an ESPRIT project (ORES: Towards the First Generation of Temporal Database Management Systems) and a DTI/ESPRC project (CHRONOS: Towards an Integrated Environment for Planning and Scheduling). Both projects involved the managing of temporal aspects of data in various applications.
His teaching interests are mostly in database and information systems, but he has also taught other IT-related subjects.
Since joining LSBU he has been heavily involved in course management. He is currently Course Director for the BSc (Hons) in IT (all pathways). Also, as Course Director, he has played a part in the curriculum development and modernisation over the years. Additionally, he has responsibilities in the area of student recruitment.
His current interests are mainly in pedagogic aspects of education, student transition, retention, progression, and employability.
Though his main area of teaching is data and information management, Aziz has taught across a wide range of subjects at all levels – from study and learning skills to systems analysis and design.
Aziz's scholarly activities now revolve around the areas of student transition from secondary to tertiary education, student retention and progression.
Member of the Association of Computing Machinery (ACM)
Member of the Chartered Institute for IT (BCS)
Aziz is currently a 'link tutor' for a collaboration between LSBU and Auston in Singapore and Sri Lanka. He will be doing the same for another collaboration between LSBU and IST (Athens, Greece). The role involves ensuring the smooth running of the franchised courses and generally playing the role of linking between staff at LSBU and staff at collaborating institutions.