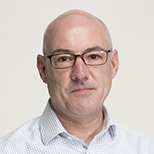 Dr Austin Claffey
Senior Lecturer in Occupational Therapy
Health and Social Care / Allied Health Sciences
Dr Austin Claffey joined London South Bank University in 2015, after 20 years in the NHS. During his time in the NHS, he worked as a clinician, manager and professional lead in a range of services, mainly in neurological rehabilitation. He has managed multiprofessional teams in acute, inpatient rehabilitation and community settings, and developed specialist outpatient clinics.
Specialist areas of practice include neuropsychological assessment and treatment, audit and quantitative research methods and skills training.
He completed an MSc in Cognitive Neuropsychology at University College London, focusing on prism treatment for unilateral neglect after stroke, and a PhD focusing on metacognitive monitoring of memory in people with Multiple Sclerosis.
Austin has 10 years' experience training qualified AHPs in physical and neuropsychological rehabilitation, in the UK and internationally.
Most recently Austin has been involved with a stroke team, evaluating the predictive benefits of the Barthel Index in acute stroke for discharge destination decision-making, and evaluation of a specialist service for people living with HIV to improve fitness and symptom self-management.
Member of the British Association of Occupational Therapists
Registered with the HCPC
Austin is a senior associate of Harrison Training, delivering postgraduate training in a range of areas of neuropsychological rehabilitation. He has lectured on the MSc Neurorehabilitation at the University of Limerick, Ireland, and acted as a reviewer for the British Journal of Occupational Therapy.