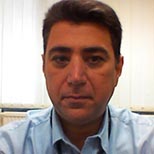 Dr Antonio Vilches
Senior Lecturer
Engineering / Electrical and Electronic Engineering
Dr Antonio Vilches is an electronics engineer and Senior Lecturer, with a device, circuits and systems background. In May 2016 he began lecturing at London South Bank University's School of Engineering, in the Division of Electrical and Electronic Engineering.
Previously, having spent 10 years as a Research Fellow working on various biomedical related projects at the Institute of Biomedical Engineering within Imperial College London, he took a Lecturer post to teach embedded software systems (PIC), electronics and C programming at Brunel University within the Product and Industrial Design degrees offered there.
All his time in academia has been spent in multidisciplinary environments, dealing with projects that required input from a number of different backgrounds. His skillset is broad enough to enable him to work effectively in any one of the following areas: device modelling, circuit design, autonomous systems, robotics, electronic materials and devices, human computer interaction.
Antonio's teaching experience includes hardware and software related topics, with an effective hands-on approach to teaching practical electronics by project based learning. He currently teaches embedded systems at level 7 (Advanced Instrumentation and Design), Analogue electronics at level 6 (Advanced Analogue and RF Electronics), Programming at level 5 (Software Engineering C++) and Team Design Project prototyping and coding for Arduino / PIC.
Antonio is presently collaborating on a new EPSRC funded Cochlear Implant technologies project with colleagues at UCL.
His research work at Brunel focused on advanced embedded systems for product design working with PICs and related peripherals, pliant piezoelectric harvesting technology (electrospinning technology) and glucose biofuel celI design.
Antonio's research work at Imperial began with his PhD, which included direct parameter extraction (S-parameter microwave measurements) and the modelling of very novel buried channel HEMT devices for Daimler Chrysler and low power microwave amplifier design. Then, as a Research Fellow, he worked on advanced, high-frequency and low power, electronic/electromechanical devices and circuits and their application to biomedical problems like the arterial monitoring of blood pressure using implanted Surface Acoustic Wave transducers energised by microwave radiation, the detection of brain tumours using broadband microwave antennas and implantable, battery-free, inductive and acoustic driven medical implant technology.
He has supervised 3 PhD students to date: one at Imperial, Dr Ayodele Sanni, and two at Brunel as Leader of the Energy Harvesting research group: Dr Thomas Maltby and Mr Santos Bunga, who has submitted and will complete by October 2016.
Antonio is a Fellow of the Higher Education Authority and an Associate Editor for the Institution of Engineering and Technology.
Antonio is a member of the UK's eFutures community, and regularly attends electronics related seminars and conferences.