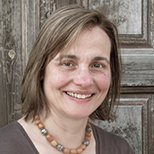 Dr Antonia Noussia
Associate Professor – Co-Director Postgraduate Planning Programme
Law and Social Sciences / Urban, Environment and Leisure Studies
Dr Antonia Noussia is an Associate Professor in Urban Design Planning and co-director of the Postgraduate Planning Programme. She has an interdisciplinary background in Architecture (MA Arch), Conservation (MA York) and Human Geography (PhD UCL).
Prior to joining academia in 1997, she worked for many years at the British Museum as a Development and Planning Architect involved with the re-organisation of the Museum space and the planning of the Great Court. The BM funded her first project which was developed over the years, and looks at the relationship among spatial layout, curatorial intent, exhibition design and the exploration patterns of visitors in open air museums and archaeological sites.
Throughout her career, she maintains an interest on the impact of tourism on vernacular landscapes and a long term association with the island of Santorini, resulted in a number of published papers on the landscape transformations of the island.
A second strand of research looks on how population mobility has affected the spatial structure of urban and rural areas in Europe and the role of public space in migrants' livelihood strategies in terms of providing answers to the expression of territoriality and negotiation of boundaries between migrants, hosts and tourists.
Her recent research sees the practice of urban agriculture as a tool for the integration of migrants. Antonia is currently an academic co-lead (with Prof Lucia Costa, UFRJ) on a Global Challenges Networking Fund sponsored project which is bringing together stakeholders from South America and Sub-Saharan Africa to promote joint research activities on capacity building of host communities and support the integration of migrants through urban agriculture.
This project builds upon her previous British Academy/Newton Mobility grant (with Prof Lucia Costa) which focused ways that that urban agriculture can contribute to the inclusion of migrants in promoting social cohesion, and providing employment opportunities.
Antonia's interdisciplinary background is reflected on her teaching too. She taught Heritage and Museum studies in Plymouth University at Exeter; Cultural Geography at the MA in Vernacular Studies Programme in Oxford Brookes University; and until recently divided her time between the Planning and Tourism Programmes at the Department of Urban Environment and Leisure Studies.
She currently teaches on the Undergraduate and Postgraduate Planning Programmes and co-ordinated the following modules: The Making of Place, Urban Design Project, Urban Design from Theory to Practice, Planning Practice, Sustainable Places, The Art of Town Planning and Research Methodology.
SFHEA - Senior Fellow Higher Education Academy (2016)
SEDA -Staff and Educational Development Association, Accredited Teacher in Higher Education (1997)
ARB - Registered Architect with the Architects Registration Board of the United Kingdom (1988)
TEE - Chartered Architect -Engeneer. Member of the Technical Chamber of Greece (1987)
1997-2017: Board of Directors. Landscape Research Group. Organisation which provides expert advice and publishes the peer-reviewed journal Landscape Research.
2014 -2021: Member of accreditation panels. Hellenic Quality Assurance and Accreditation Agency/ Ministry of Education Greece.
2010-2014: External Examiner. MA in World Heritage Resources Management. Bournemouth University.
2009-2013: Desk-top Reviewer. UNESCO, World Heritage sites.
2002-2007: Honorary Senior Research Fellow, Department of Geography, University College London.