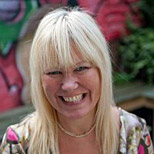 Dr Anna-Karin Axelsson
Senior Lecturer, Chemical Engineering
Engineering / Chemical and Energy Engineering
Anna-Karin's scientific research career has included several aspects of analytic chemistry, materials science, solid state physics and chemistry, functional evaluations and application-led research in science and technology. She also has several years' of industrial work experience within both mechanical and chemical engineering.
In science research she started from dielectric metal oxides for microwave and mobile communications towards a broad range of functional materials used in all of the electromagnetic spectrum. Her specialism is to connect theory with experimental data describing the functionality to the material synthesis processes, to finally develop a functional device idea. The initial investigations into solid state chemistry and physics have over the years been transferred to nanotechnology, in particular high vacuum thin-film processing.
She has been a key person in prestigious research projects, writing many national and international research funding grants. Anna-Karin has established industry collaborations with leading brands, such as Hitachi, Nokia, Ericson and Antenova as well as international research institutes and universities in Slovenia, India, Portugal, Sweden, Switzerland, Spain, Italy and Peru.
She has published over 50 papers in high impact journals and been invited as a Plenary, Keynote and Invited Lecturer to prominent international conferences due to her high reputation in research.
This has also led her to being invited to the editorial board of peer reviewed journals: the Journal of Ceramics, Indian Journal of Material Science and Multiferroic Materials.
Her teaching and research at LSBU focus on clean process technology, energy conversion, functional material processing and solar energy.
Modules taught:
Chemical Industrial Case Studies
Chemical Engineering Design Project
Introduction to Chemical and Petroleum Engineering
Clean Process Technology
Transfer and Separation Processes
Anna-Karin's main areas of research are:
Electrocalorics for solid-state refrigeration
Photocatalytic solar hydrogen and water purification
Multiferroic and magnetoelectric coupling
Thin oxide films
Diluted semiconductors for spintronics
See Anna-Karin's publications at LSBU Open Research
Visiting Research Fellow at Department of Materials, Imperial College London.