Dr Ana Catarina De Almeida Marques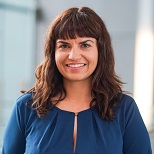 Dr Ana Catarina De Almeida Marques
Senior Research Fellow
Engineering / Mechanical Engineering and Design
Catarina Marques is a Senior Research Fellow at London South Bank University (LSBU) with 15 years' experience working on funded research projects in the areas of refrigeration, district heating and cooling, food and thermal storage materials. She is the Project Manager for GreenSCIES, a large consortium project on smart local energy networks that integrate heat, power and transport.
Catarina has worked simultaneously in the industry and academia through an industrial CASE award PhD and two knowledge transfer partnerships between LSBU and Adande Refrigeration Ltd. She won an Innovate UK business leader of the Future award in 2015 and managed Adande's Engineering department for 3 years leading the development of novel award-winning energy efficient products and certification to international markets. She has 6 years' experience writing EN and ISO standards.
Catarina is the President of Careers in Refrigeration (CaRe) a working group from the International Institute of Refrigeration (IIR) that aims to make refrigeration more visible to the public and inspire a young generation to join this field. She regularly organises international workshops for CaRe and it is a member of the Institute of Refrigeration steering group on Women in Refrigeration, Air-Conditioning and Heat Pumps.
Catarina has published four papers and sixteen conference papers covering a wide range of topics from food science to refrigeration, acoustics, district heating and cooling and smart local energy systems (SLES). Her current research is focused on a SLES that integrates heat (ambient loop district heating and cooling network), renewable power (solar PV) and low carbon mobility (electric vehicles and vehicle-to-grid). This SLES reduces carbon emissions by 80% compared to today's baseline (with gas boilers, chillers and internal combustion engines). Catarina is also involved in other heat decarbonisation projects investigating waste heat recovery from industrial processes, canals and mine water.
Catarina completed her PhD at London South Bank University in 2012, on the novel design and performance enhancement of domestic refrigerators with thermal storage. This research was awarded the Ted Perry award by the Institute of Refrigeration in 2012. She worked in the refrigeration industry from 2006 to 2018 and maintained strong bonds with academia, completing an industrial CASE award PhD and two knowledge transfer partnerships (KTPs) over this period. The first KTP was on acoustics, reducing the noise of a commercial refrigerator, whilst the second KTP combined food science, refrigeration and new product development. She developed a novel chilling and tempering cabinet capable of both chill and rapidly warm up food ingredients, addressing a key operational need in restaurants. Due to this successful project, Catarina won the 2015 Business Leader of the Future award, from Innovate UK. Catarina led the Engineering department of Adande Refrigeration for 3 years, overseeing the design, testing and certification of the Adande products for the UK and international markets, developing award-winning products.
See Catarina's research profile.
Catarina is a Fellow of the Institute of Refrigeration (IOR) and a member of the following IOR committees:
Women in RACHP (since 2016): the steering group provides mentoring, networking and learning opportunities to women working the refrigeration, air-conditioning and heat pumps industry.
Papers and Publications (since 2019): the group carries out peer reviews of papers published in the IOR proceedings. Catarina has reviewed over 35 papers for IOR organised conferences such as the 3rd IIR International conference on Sustainability and the Cold Chain in 2014, the 12th IIR-Gustav Lorentzen Natural Working Fluids Conference in 2016 and the IIR Rankine 2020 Conference - Advances in Cooling, Heating and Power Generation.
SIRACH planning group (since 2019): the group regularly organises workshops on the topics of refrigeration, heating technology, energy storage, and end-user energy demand.
Catarina is a Member of the International Institute of Refrigeration (IIR) and it is the president of the Careers in Refrigeration working group since its inception in 2016.
In 2019, Catarina became a member of the Institution of Mechanical Engineers Food and Drink committee, which organises talks, lectures, seminars and conferences on a range of technical and societal topics relating to the food and drink sector.
Catarina served on the CEN technical committee 44/Working Group 2 from 2012 to 2018. This working group drafted two European standards for professional refrigerated storage and blast cabinets. These standards underpinned the testing requirements for professional cabinet's compliance with two key European directives: Eco-design requirements and energy labelling. She joined the ISO Technical Committee 86/ SC 7/Working Group 1, from 2017 to 2018 as a Technical expert, working on an international standard for professional refrigerated cabinets.
Catarina chaired the Young Engineers network from Institute of Refrigeration from 2013 to 2015, supporting UK speed-networking events that allowed students meet senior representatives from the industry and academia. This experience led to the formation of Careers in Refrigeration (CaRe) a working group from the International Institute of Refrigeration in 2016. CaRe aims to provide mentoring and networking opportunities to students, supporting their career development and giving them opportunities to meet potential employers. Since 2016, CaRe has held eight networking events at international conferences in Europe, Asia, the US, Canada and New Zealand and at the Chillventa industry trade fair in Germany. These events were held in partnership with the IOR or the EPEE (European Partnership for Energy and the Environment). Another CaRe goal is to increase both the cultural diversity and numbers of women in refrigeration. The IIR CaRe working group has collected information from national refrigeration institutions and associations to determine women representation in the industry and to identify initiatives around the world to promote refrigeration careers to women. This research has been summarised in two papers and presented at international conferences.
In 2020, London South Bank University marked 100 years of teaching women in engineering. The university celebrated this milestone with a year of events and activities. Catarina has participated in two events, a 'Women in Engineering' panel discussion and a 'Engineering the Future' session, which showcased extraordinary research undertaken by female engineers to improve our world for a better tomorrow.
Catarina has served on various industry judging panels, such the ACR Trainee of the Year in 2014, the IIR Clarence Birdseye young researchers award in 2018, the IOR Ted Perry Award in 2018 and the HVR awards in 2019.