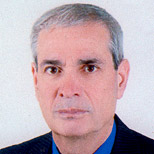 Dr Ali Bayyati
Senior Lecturer / Course Director
Built Environment and Architecture / Construction, Property and Surveying
Ali started his career in the late 1970's as an Engineer and Commercial manager in the Middle East. He gained extensive experience in construction management, commercial management, surveying and engineering, working on various major infra–structure and building projects both in the UK and abroad.
Moving to academia in the late 1980's, he taught and researched at various universities and colleges including the University of Leeds, University of Newcastle Upon Tyne, and University of Hertfordshire before joining London South Bank University in 2004.
His expertise is in the fields of surveying, commercial and construction project management and construction technology.