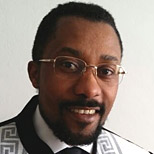 Dr Alex Paurine
Head of Division (Building Services Engineering)
Built Environment and Architecture / Civil and Building Services Engineering
Alex worked as energy manager for Houses of Parliament and as a mechanical design engineer for a number of consulting companies prior to joining London South Bank University for his doctoral training in 2005. As part of his training, he designed, built and tested a novel absorption refrigeration system incorporating a thermally activated LiBr-H2O circulation device, for which he was awarded a doctor of philosophy degree (PhD) in 2008.
Alex is a senior lecturer in Engineering Mathematics and Sustainable Energy Systems at London South Bank University. Amongst many innovations, he has researched on the use of sustainable abrasive ice particles as an alternative to sand blasting technology for cleaning and restoring historical building facades. His work included developing of a mathematical model, designing and manufacturing of components, testing and commissioning of the system.
He has worked tirelessly on many research and consulting projects including; cooling of the London underground trains, designing and modelling of innovative self-cooling roof structures for hot climates in particular Southern European countries, investigating and developing food packaging materials with potential to minimize energy associated with refrigeration of foodstuffs, particularly in supermarkets and so many others.
He is an expert in the design and modelling of heat exchangers, energy sustainability in buildings and solar cooling systems; areas in which he has co-authored and authored and published a number of papers in conferences and peer reviewed international journals.
Alex is passionate about raising awareness of climate change particularly in developing countries. This involves advising policy makers on how best to reduce carbon footprint.
Teaching activities over the last 8 years include:
Engineering Science
Heat and Mass Transfer
Thermo and Fluid Dynamics
Engineering Mathematics
Refrigeration and Air conditioning
Engineering systems
Heating and Energy in Buildings
Environmental Management
Research interests include:
Energy sustainability i.e. Heat and mass transfer
Cooling of London Underground
Sustainable Refrigeration systems
Member of Institute of Refrigeration (IoR)
Member of Chartered Institute of Building Services Engineers (CIBSE)
Member of Institute of Mechanical Engineer (IMechE)
Chartered Engineer (CEng) by the Engineering Council
Reviewer of International Journal of Low-Carbon Technologies - Oxford University Press
External Examiner for postgraduate programmes - University of Technology (UTech), Jamaica
IMechE's Academic Assessment Committee (AAC) Panellist
Partner of the Medway Education Business Partnership and STEMKent
Enjoys cycling