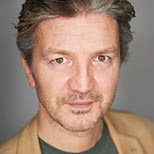 Dr Alex McSweeney
Senior Lecturer
Arts and Creative Industries / Film and Media; Arts and Performance; Creative Technologies
Dr. Alex McSweeney came to university life late after spending 25 years as a professional actor. He is a Senior Lecturer in English and Creative Writing. His Ph.D. Research at King's College, London examined class discourses within the novels of George Gissing. His interests in English Naturalism has informed his work ever since. He is also a writer and director with recent productions at The Pleasance London, The Tabernacle and The Hen and Chickens Theatre and The Rose Theatre, Kingston.
His professional career has seen him perform on the West End Stage, many regional rep. theatres, as well as in varied Film, Television and Radio productions. Among his TV credits are Graham Foster in Eastenders, Dave Radford in The Bill, Captain Wilder in Primeval lll and most recently in 2014, DS Sykes in Hollyoaks. He has taught screen acting and Mountview Academy of Theatre Arts and is a Lecturer in Drama at Kingston University.
Alex continues to act, write and direct alongside his university life. He has spent the last six years, amongst other things, as part of Steven Berkoff's company acting in On the Waterfront at Nottingham Playhouse and the Theatre Royal, Haymarket and Oedipus at the Liverpool Playhouse and Spoleto Festival USA. After a brief run at the Rose Theatre Studio, Kingston, Alex directed his most recent play OUT OF THE CAGE which opened for a four week run at The Park Theatre in 2015.
Literature in Society: Drama
Writing for Performance
Literature into Film
Tragedy to the English Renaissance
Single Author Study: Postcolonial Writers
Research areas
Actor Training
Playwriting
Naturalism
External Memberships
Equity
Fellowship of the Higher Education Authority
Theatre and Performance Research Association
Writing and directing experience
Writer/director:
2015:Out of the Cage, The Park Theatre, London
2014:Out of the Cage, The Rose Theatre, Kingston
2011:A Hero of Our Time, The Rose Theatre, Kingston & Zoo, Edinburgh
2005:Between Women, Hen and Chickens Theatre, Islington.
2003: The Heart of Everything, The Pleasence Theatre, London.
2003: Face Value, Short Film.
2002: Kaleidoscope, The Tabernacle Theatre, Notting Hill.
2001: In My Time of Dying, St. George's Theatre, Tufnel Park.
Director:
2004:Confusions by Alan Ayckbourn, Canal Cafe Theatre, London.
Acting credits
Theatre
Oedipus (Spoletto Festival USA), Enduring Song (Ferment at The Bristol Old Vic), Execution of Justice (Southwark Playhouse), Oedipus (Liverpool/Nottingham Playhouse), On The Waterfront (Theatre Royal, Haymarket), The Cherry Orchard (Southwark Playhouse), The Three Birds (The Gate), Leave To Remain (BAC), What You Get And What You Expect (Lyric, Ham.), Horace (Lyric Studio), The Long, The Short and The Tall (The Albery), Out In The Cold (BAC), Twelfth Night (Library Theatre, Manchester), And Women Must Weep (Greenwich Studio), Savage In Limbo (Kings Head), Our Country's Good (Lyric, Ham), Rubber Dolly (Old Red Lion), Fairgame (New End).
Film and television
DS.Sykes in Hollyoaks (C4), Crimes Stories, Silent Witness VII & XV, Sirens, Captain Wilder in Primeval 3, Hellboy 2: The Golden Army, Shoot on Sight, Lewis, Holby City, The Last Detective, Dave Radford in The Bill, Commander III, Graham Foster in Eastenders, Secrets, One Ball Bill in Keen Eddie, Revelation, In Deep, Carman QC, Submerged, Gangster No.1, The Escort, Ladies and Gentlemen, Maisie Raine, Byron.
Radio:
To Please His Wife (BBC R4), Timon of Athens, Hamlet (Riverun Productions).