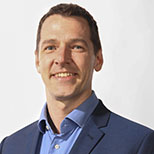 Dr Aaron Gillich
Associate Professor – Director of the BSRIA LSBU Net Zero Building Centre
Built Environment and Architecture / Civil and Building Services Engineering
Dr Aaron Gillich is an Associate Professor of Energy and Building Systems Engineering. He has recently taken up the role of Director of the BSRIA LSBU Net Zero Building Centre. The Centre is a joint venture between BSRIA and LSBU, and represents a tremendous opportunity for two institutions with renowned reputations in the built environment to contribute even further in the UK race to Net Zero carbon emissions.
The UK is at the beginning of a crucial decade of climate action. By creating the UK's first centre for research and innovation on the critical theme of Net Zero Buildings, both BSRIA and LSBU are showing strong leadership on the impetus and scale of this challenge.
Aaron has a background in engineering and policy research, and a decade of experience in delivering applied research projects focused on reducing carbon emissions from buildings. He has worked on a range of project areas including low carbon heat generation, heat networks, heat pumps, building physics, and energy and retrofit policy. He was also seconded to the UK Government Department for Business, Energy, and Industrial Strategy (BEIS) as a technical advisor in 2017-2018.
Aaron has taught a wide range of topics in the School for the Built Environment and Architecture including:
Thermal Environment Acoustics and Lighting
Internal Environment and Comfort
Design Applications
Heating and Ventilation
Integrated Building Design
Refrigeration, Air Conditioning, and Heat Pump Engineering
Heat and Mass Transfer Applications
Energy Resource and Use Analysis
Environmental Management
He is currently seconded to a research role and supports teaching across the undergraduate Internal Environment and Comfort module and the MSc Energy Resource and Use Analysis module.
Aaron's research interests centre on the UK energy trilemma of delivering a low cost, low carbon, secure energy system. He is particularly interested in the field of low carbon heat and the intersection of technical and policy challenges in meeting the UK's 2050 carbon targets.

His research background considered domestic retrofit program and policy implementation. From February 2017-18 he worked with the Department of Business, Energy, and Industrial Strategy (BEIS) on secondment to the Energy Transformation Directorate. His role was supporting and developing technical research to inform policy design.

He is currently working on the following research projects:
PI – The Home Energy 4 Tomorrow (HE4T) project developing and testing a hybrid heat pump and links with water utilities.
Co-I – The Balanced Energy Network (BEN) project building a prototype heat network that balances the delivery of heat across the LSBU campus using heat pumps, borehole thermal storage, and a demand side response control system.
Director of Centre for Efficient and Renewable Energy in Buildings (CEREB)
Academic Chair - Building Services Industrial Advisory Group
Energy Institute - Member, CEng, and Chartered Energy Engineer
Higher Education Academy - Fellow
Director of Centre for Efficient and Renewable Energy in Buildings (CEREB)
Collaborations Lead - Building Services Industrial Advisory Group
Energy Institute - Member, CEng, and Chartered Energy Engineer
Higher Education Academy - Fellow